Terroir in Chocolate
Terroir is a quality in a food product that synthesizes genetics, location, and human intervention to evoke a "sense of place." This blog post discusses the notions of terroir in chocolate and the multiple layers of chocolate origins, as well as explores the concepts firsthand with a chocolate tasting that tests whether these factors are discernible to the average consumer in the final product.
To describe terroir in chocolate is to recognize the interconnected web of relationships that produce chocolate: from its raw state and growing conditions to the manufacturing process and final moment of consumption and appreciation (Nesto 131). Flavor begins with the genetics of cacao and its precursors are "translated" during the fermentation process into distinguishable characteristics (Presilla 117). Environmental conditions—climate, soil type, topography, surrounding plants—and the chocolate-making process further affects how this cacao flavor is expressed (Martin 2018). In addition, human interaction with cacao influences how terroir is expressed. The final chocolate product embodies a series of actions that shape the final flavor: from deciding when to harvest and choosing certain cacao pods to balancing mucilage-to-seed ratios during the fermentation process and manipulating texture and aroma with roasting and grinding (Nesto 134). For instance, in areas where cacao is harvested during the rainy season, drying the seeds in the sun is not a reliable option. Artificial drying methods, such as over wood fires, infuse smoky and deeply-roasted flavors into the cacao beans, which would not appear in cacao beans from other places where harvest occurs in a warmer, sunnier climate (Presilla 117). Essentially, terroir reflects the identity of the chocolate and its origins.
Exploring terroir in chocolate starts with examining the place where cacao beans originate.
While terroir in chocolate is an emerging concept, the notion is well-established and widely recognized in the world of viticulture. Like wine grapes, cocoa beans exhibit detectable and distinct flavors between different types and terroirs (Leissle 23). Yet, while parallels can be drawn between the two agricultural products, the comparisons are only useful to a certain point (Presilla 126). The differences between viticulture and enology with cacao cultivation and chocolate-making highlight why terroir is more difficult to express in the latter field. Firstly, concerning genetics, the form of grapevines reflects inherent genetic qualities and each grape is genetically identical to each other. In contrast, the exact connection is tenuous between gene markers and physical morphology in cacao pods. Moreover, in a single cacao tree, cacao pods are not genetically identical to each other (Nesto 133). Secondly, the system of regulation and labeling of raw-material origin is more consistent and widespread for wine-producing grapes than it is for chocolate-producing cacao (Nesto 134). Lastly, growing grapes and producing wine are often done in close proximity to each other, allowing for more control throughout the process. This is certainly not the case with chocolate.
Parallels are often drawn between viticulture and enology with cacao cultivation and chocolate-making, but the comparisons are only analogous to a certain point.
There is a physical and figurative divide "between tree and mouth" that obstructs the expression of terroir in chocolate (Leissle 22).  As cacao travels thousands of miles from tropical growing zones to factories in Europe and North America, the ability to reflect cacao's origin in the final chocolate product becomes increasingly difficult (Nesto 132; Leissle 22). The place of manufacture often subsumes the place of bean origin (Leissle 23). Closer proximity between cultivation and manufacturing, in addition to fewer transfers of ownership, would begin to narrow this gap (Nesto 132). With more control throughout the entire cacao-to-chocolate chain, terroir—or the "sense of place" of chocolate—can be better preserved (Nesto 135).
Chocolate Origins
Chocolate reflecting its cacao bean origins is a relatively new topic of collective interest. Historically, chocolatiers believed blending beans from many different places yielded a more desirable chocolate. In addition, in the past, consumers did not express interest in origin-labeled chocolate. "Single-origin" chocolates began to appear in the U.S. market in 1984 during the growing food movement of eating local and learning about food provenance (Leissle 23; Netso 134). To illustrate the nascent bean-to-bar craft: in 1997, there was only one artisanal chocolate maker selling commercial bean-to-bar chocolate in the U.S. (Leissle 23). Today, twenty years later, there are nearly 200 chocolate makers in this category, demonstrating a continued growing interest in where the beans in chocolate come from (Wiley 2017).
"Single-origin" is the name applied to chocolate made solely with beans from a particular plantation, area, or country (Leissle 23). Other terms include "exclusive-derivation," "single variety," "grand cru," and "estate grown" (Presilla 126; Leissle 23). To the experienced taster, the advantage of a single-origin chocolate is that all the subtleties of its terroir will be distinct. Yet, it is important to note that, single-variety chocolate does not necessarily mean higher quality. No matter the origin, if the beans are of poor quality, the chocolate will be too (Presilla 128).
In contrast to single-origin bars is chocolate made with blends of cacao beans of different types or from different geographical areas. While blending is often associated with anonymous chocolate of corporate mass-producers, the craft of blending is pre-Columbian and does not necessarily have to be "anonymous" or of low quality (Presilla 126). Both single-origin and blended cacao beans are legitimate approaches to chocolate-making—neither method is necessarily better than the other. Yet, across both chocolate-making processes, there is a dearth of labeling of the cacao's origins—whether a single area or multiple (Presilla 128).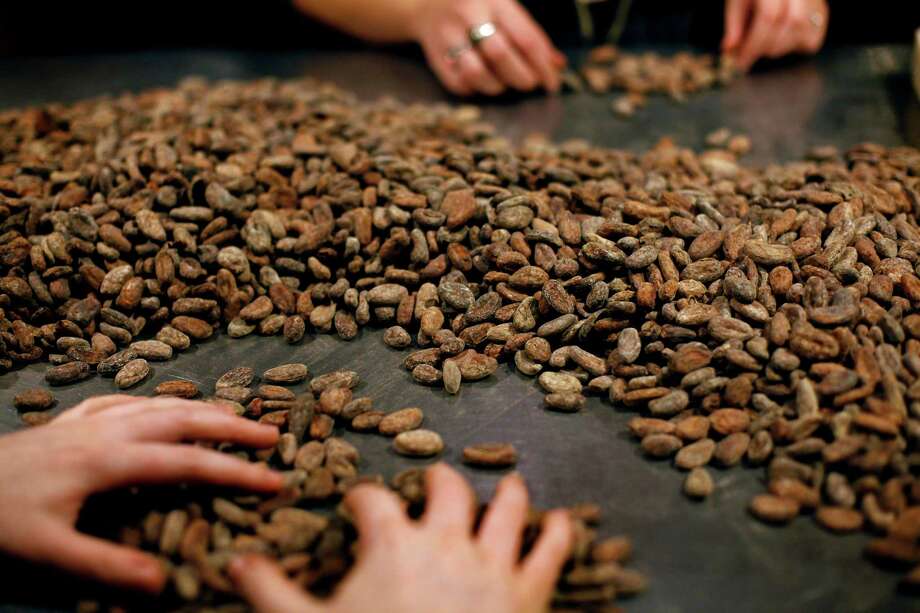 Cacao beans vary by strain–such as Criollo, Forastero, or Trinitario–or geographic area.
Chocolate Tasting: A Sense of Place
A chocolate tasting seemed like an apt opportunity to further explore terroir and bean origins in chocolate. The chocolate availability at Cardullo's Gourmet Shoppe in Harvard Square, a purveyor of specialty foods, had the most impact on the final sample selections. There were not enough bars produced in the same area as the bean origin to conduct a tasting. In addition, the store only displayed one chocolate bar made with West African cacao beans and was out of stock at the time of purchase. The majority of the world's cacao supply comes from West Africa, but the average consumer would not realize this simply by surveying the chocolate bars on the store shelves. The limited availability of West African sourced chocolate appears to reflect larger trends of exclusion in trade logistics, purchasing power, bean type, and politics (Leissle 23).
In the end, the tasting was organized around four chocolate bars with different origins and, hopefully, terroirs. The selection began with three dark chocolate bars made with single-origin beans from three different places, with similar cacao content and minimal added ingredients. The last chocolate was a milk chocolate bar made from blended cacao beans, for the purpose of comparing cocoa content, texture, and taste.
Participating tasters conducted a sensory evaluation, consumed the chocolate, and ranked the overall appeal on a numerical scale.
The chocolate tasting consisted of seven participants sampling the different chocolates sans packaging. Initially, tasters shared their chocolate preferences and consumption habits. The majority enjoyed chocolate on a daily or weekly basis in the form of dark chocolate. Three people were familiar with the concept of terroir, often mentioning wine at the same time, while four had not previously known about it. The actual tasting consisted of a sensory evaluation, with each taster writing down notes about the chocolate's appearance, smell, "snapping" sound, taste, and texture (Stuckey 135). After finishing the sample, each taster rated how much they liked a product on a scale of one—"strong dislike, would not eat again"—to five—"great appreciation, would purchase and eat again."
The first sample—labeled "Chocolate A" —was Chocolat Bonnat's Madagascar bar. While the packaging boasts that the beans are from a carefully selected cocoa grands crus in Madagascar, the chocolate itself is produced in France. The bar is 75% cacao and the listed ingredients in order are cocoa beans, cocoa butter, and sugar. This bar was selected as the first sample because its flavor profile promises "blond cocoa and sweet Indian Ocean, fruity, well balanced." The aim was to begin with a chocolate bar that was not too overpowering in terms of flavor and texture.
This bar held true to its promise of balance. The tasters' observations were not particularly specific, simply noticing that the taste was both sweet and bitter. The average ranking for the chocolate was 3.92 and was the crowd favorite for its evenness. Participants noted that there was nothing too strong about it, either in aroma or taste, and therefore, they would be more likely to consume the whole bar or buy it again.
Goodnow Farms Chocolate's Esmeraldas was selected for the second sample, "Chocolate B." This "premium dark chocolate" bar highlights that the cacao beans are "single origin" from the Salazar family farm in Ecuador's Esmeraldas region. The chocolate is part of a "small batch" production process in Sudbury, Massachusetts, with this particular bar from batch number 1,046. The bar is 70% cacao and the listed ingredients in order are cacao beans, organic sugar, and cocoa butter. The packaging describes the flavors within as "intense," "berry jam," and a "long, pleasantly tannic finish." This bar was selected to be tasted second in the sequence because of its promise of bold, fruity flavors.
Even though the bar does not contain fruit additives, the "berry jam" description seemed very apt when tasters commented on the chocolate's color and taste. The color of the chocolate was described as so dark that it had a purple or even black hue. The flavor was described as "fruity" with elements of coffee or a stout beer. These specific descriptors immediately set the reactions apart from the first bar even though the listed ingredients are the same and the cacao content is even slightly less. While my hypothesis was that the difference was due to terroir—the combination of genetics, location, and human intervention—the tasters were more convinced that it was the manufacturing process alone, such as how long the cacao beans were roasted, that accounted for the taste differences. The average ranking was 3.85, but with more varying opinions than the previous sample.
The third sample, "Chocolate C," was Taza Chocolate's 80% Dark Dominican Republic. This bar is part of Taza Chocolate's "Origin Bar" series where the packaging advertises that the chocolate is "made from bean to bar" in Somerville, Massachusetts. The ingredients are all labeled as organic—cacao beans, cane sugar, and cocoa butter—except for the vanilla beans. This bar was selected for its texture; the stone ground technique would provide a comparison for mouthfeel for the tasters when compared to the other chocolate bars. While the chocolate wrapping does not describe the flavor profile beyond its boldness, the online description describes the tasting experience as starting "with a burst of ripe strawberry fruit, then mellows into coffee and smoky notes" (Taza Chocolate). This chocolate bar was third in the sequence and last for the dark chocolate selections because it contained both the highest cacao content and the most powerful flavors.
This sample elicited the strongest reactions from the group and received the lowest average rating of 1.93. Those who had never tasted stone ground chocolate were surprised and unreceptive to the gritty, "sandy" texture. For those who were familiar with Taza Chocolate and did not mind the texture, commented on the strong flavor, describing it as "blueberry," "cherry," and "chipotle, without the spice." The robust flavors and descriptions may be attributed to the use of vanilla beans in the chocolate, which is typically used to intensify and highlight other present flavors in chocolate (Presilla 138).
Chocolove's Milk Chocolate bar, containing 33% cocoa, was the last sample: "Chocolate D." This sample was last, for it had the most additives—cocoa butter, milk, cocoa liquor, soy lecithin, and vanilla—and was predicted to be the sweetest tasting. Instead of a single cacao bean origin, this bar is made from "a blend of Javanese and African cocoa beans" with "caramel-like flavors." Rather than drawing on the lexicon associated with origins and traditional chocolate-making techniques, Chocolove references luxury and a historical tradition by mentioning that this bar is "Belgian milk chocolate" in several places on the front and back of the packaging. Like the other chocolate bars, this bar is not made in the place of origin, but in Boulder, Colorado.
Every single taster described this sample as "sweet" and some further elaborated with descriptions of "caramel," "vanilla," and "creamy." A few tasters referenced a sentiment of artifice or a lack of perceived chocolate authenticity, mentioning the flavor tasted "cheap," "fake," "processed," or like it was made with "condensed milk." These reactions are appropriate when scanning this chocolate bar's ingredients: sugar is listed first. Despite the consensus that the chocolate bar was overly sweet, the chocolate was still perceived as relatively favorable with an average rating of 3.36. While all the tasters are self-professed dark chocolate lovers, they shared that the saccharine taste of the Chocolove would appeal to them for the times when they do want a milk chocolate bar. The addition of sugar appeared to overpower any display of terroir and the discussion gravitated towards texture. As a group, we discussed whether we are socially conditioned to perceive "smooth" chocolate as "good" chocolate. So, even though the milk chocolate flavor was not necessarily better than the that of the Taza Stone Ground chocolate, this sample was more well-received because of its silky texture.
The packaging of the chocolate samples were revealed at the end to facilitate a discussion about tasting terroir.
Overall, the chocolate tasting was an insightful experience into terroir and bean origins of chocolate. All the tasters agreed that they could taste distinct differences between all the chocolate samples. While the group thought that some of the differences could be attributed to the place origin and plant genetics, they ultimately believed that human intervention was the largest influence on the final chocolate taste.
With so many factors to consider when choosing the samples of chocolate, it would be interesting to host another tasting with the same group of people but with different selection criteria. For instance, many chocolatiers argue against the use of percentages in chocolate advertising, saying that high cacao content does not necessarily reflect good flavor (Williams and Eber 170). A future tasting could test chocolates of different cacao content, but all from the same origin.
Terroir is a quality in a food product that synthesizes genetics, location, and human interactions to evoke a "sense of place." The participants in the chocolate tasting believed that human intervention was the most dominant factor in affecting how terroir is perceived in the final product.
Future of Terroir in Chocolate
To investigate terroir in chocolate is to inquire into a chocolate bar's origins. Regardless of a single origin or multiple origins, labeling a chocolate bar's beginnings invites curiosity about its origins and what makes its taste distinct. Doing so paves the way for more socially responsible chocolate. For instance, an excellent chocolate bar labeled with its origins from a less-publicized chocolate-producing regions, such as those in West Africa, could be a positive representation (Leissle 30). As consumers become more interested in where their chocolate comes from, chocolate makers gain incentive to move closer to the cultivation process (Nesto 135). Combined with further research into different bean strains and place distinctions, there is much to look forward to the future of terroir in chocolate.
Works Cited
Leissle, Kristy. 2013. "Invisible West Africa: The Politics of Single Origin Chocolate." Gastronomica: The Journal of Food and Culture. 13 (3): 22-31.
Martin, Carla D. "Health, nutrition, and the politics of food & Psychology, terroir, and taste." 11 April 2018. AAAS 119x, Harvard University.
Nesto, Bill. "Discovering terroir in the world of chocolate." Gastronomica 10, no. 1 (2010): 131-135.
Presilla, Maricel. 2009. The New Taste of Chocolate: A Cultural and Natural History of Cacao with Recipes.
Stuckey, Barb. 2012. Taste: What You're Missing. pp. 132-156.
"80% Dark Dominican Republic." Taza Chocolate. https://www.tazachocolate.com/products/dominican-80
Wiley, Carol. 2017. 198 U.S. Bean-to-Bar Chocolate Makers: A State-by-State Guide.
Williams, Pam and Jim Eber. 2012. Raising the Bar: The Future of Fine Chocolate. pp. 141-209.
Image Sources
Image 1: "Discover Real Chocolate." By Everjean is licensed under CC BY 2.0
Image 2: "Autour du vin: printemps (basin d'orange)." By Jean-Louis Zimmermann is licensed under CC BY 2.0
Image 3: Rice, Sarah. "At Dandelion Chocolate in S.F., cocoa beans are sorted by hand." In "Bean-to-bar chocolates: Bay Area's edgy sweets," by Tara Duggan. 7 November 2014. https://www.sfgate.com/food/article/Bean-to-bar-chocolates-Bay-Area-s-edgy-sweets-5879261.php
Images 4-5 by author
Image 6: Morejón, César. "A farmer extracts the seed of cacao…" The Wall Street Journal. In "A Tasting Tour of Ecuador, Chocolate's Birthplace," by Adam H. Gram. 13 September 2013. https://www.wsj.com/articles/a-tasting-tour-of-ecuador-chocolates-birthplace-1379108319