Can Japanese confectionery companies surpass the Chocolate Giants?
I love Pocky. I grew up eating Pocky, chocolate Koala March, and chocolate covered almonds. When you walk into a Japanese or Taiwanese convenience store, there are American and British chocolate products, but they are also overwhelmed by the plethora of choices offered by Japanese brands like Glico and Meiji. Even in the United States, people in more urban areas are becoming increasingly familiar with Meiji and Glico products, enthusiastically buying their products when available. However, their products do not have close to the name brand recognition here as in Asian markets. While some companies like Hershey's sales are slowing down in China, Japanese companies have slowly increased its sales all over Asia. Although many of the top companies such as Mars, Mondelez and Nestlé still dominate the Chinese market, will Japanese companies soon dominate the rest of Asia and join the mix in China? Have they figured out the secret to succeeding in this unique market?
Chocolate confectionery giants have long identified Asia as a potential market to boost sales and increase brand recognition. However, it has proven difficult to penetrate with the traditional flavors and offerings of the West (Martin, lecture, March 13, 2019). What many western chocolate companies such as Hershey's, Cadbury, Nestle and Mars have realized is that the Asia's cultural differences and attitudes towards chocolate demands not just different marketing, but different products as well.
Japan's chocolate confectionery companies seem to have tapped into these consumption patterns, targeting countries in distinct ways to cater to the domestic market. They use these cultural tastes and differences to target Asian consumers, such as creating commercials portraying people presenting chocolate as a perfect gift, not just for significant others but for friends as well. They use celebrities' star power to market their goods, using "idols" in many marketing campaigns. Companies like Glico and Meiji also have a diversity of offerings, much of which caters more to Asian taste buds as shown in the plethora of products above. Moreover, these companies strive to create more localized relationships with sellers of products in emerging markets and tweak their products to make them more budget-friendly, catering to each localities' needs and wants. These Japanese companies' endeavors serve to give a more local feel to the products and facilitate increased consumption of their goods. They have also been able to take advantage of the expansion of convenience stores in Southeast Asia to stock their own products. That, combined with Japan's reputation for selling products of consistently quality, has facilitated increased sales as well as their entry into gourmet chocolate. Furthermore, these companies have tapped into creating fads around their goods common within Asian markets, popularizing trying different flavors of products such as pocky and instagramming their limited edition products. Simultaneously, like many other confectionery companies around the world, these marketing strategies employed by Meiji and Glico also contribute to reinforcing racial and gender stereotypes by utilizing idealized versions of Asian women in advertisements in order to increase sales.

Defying Uniformity
When marketing research company Kadence International conducted a consumer survey in Asian markets, they realized that rather than seeing Asia as a uniform market, chocolate companies should sell different chocolate goods based on their taste preferences. Patrick Young, a director at Kadence, posits that this variety of taste preferences is indicative of the lack of dominance of any one chocolate brand in Asia (Nieburg and Young, 2016). For example, consumers in Taiwan, Singapore, India and Malaysia all prefer a crunchy texture while Japan stresses a more health-conscious product (Nieburg and Young, 2016). Rather than forcing sales of creamy textured chocolate bars popular in the U.S., Japanese confectionery companies started with cookie or biscuit based chocolate products that better align with consumer preferences. Many popular products such as Meiji's chocolate almonds or Glico's Pocky cater to a large population that prefer crunchiness over smooth, silky textures.
In Singapore, Meiji's Hello Panda (a chocolate-filled cookie snack pack) and Yan Yans (biscuit sticks with a chocolate dipping sauce) are now offered in every major supermarket (Miyazumi, 2014). These crunchy, bite-sized snacks are extremely popular and have become staples in Singapore and other parts of Asia. The fact that Japanese brands have a reputation for quality products have facilitated the growth in their popularity not just in Singapore but all over Asia (Miyazumi, 2014).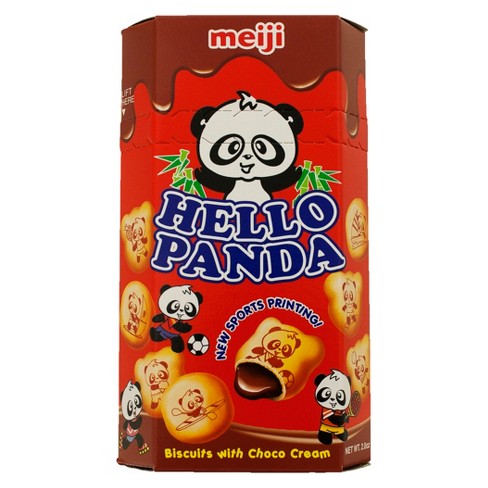 While Meiji has a strong foothold in Singapore, they are expanding to new Asian markets such as India. Rather than starting to send the same products that cater to east Asian and southeast Asian tastes, Meiji has set up preliminary testing of certain products in the emerging market. The company has been sending representatives every month for weeks at a time to establish personal relationships with individual vendors (Miyazumi, 2014). Meiji is also experimenting with prices and product sizes as the cost of living in India is significantly different to the buying power of Japanese and Singaporean consumers (Miyazumi, 2014). Glico has done something similar in Thailand where Pocky (chocolate coated biscuit sticks) are sold in smaller packets for the equivalent of 15 cents (Sese, 2014). The majority of their Pocky sales in both Thailand and Indonesia are a result of smaller sales in small shops in rural areas.
In Japan, Meiji, Glico and other companies have shifted their products as consumers have become increasingly health-conscious as reflected in the consumer survey (Nieburg and Young, 2016). Since 2016, the chocolate market in Japan has been growing about 4-5% per year, exceeding the growth rate of the global market (Boyd, 2018). Both Glico and Meiji have introduced chocolate products with supposed health benefits such as lowering blood pressure and reduce stress (Boyd, 2018). Touting the supposed health benefits of chocolate is an age-old tradition as evidenced in the medicinal practices used in Mesoamerica and in Europe (Coe and Coe, 2013, 120-129). Japanese confectioners also took advantage of the supposed health benefits of chocolate and advertised it at the turn of the 20th Century (Mitsuda, 2014, 189). These new chocolate products go further by not just promoting the health benefits of chocolate itself, but to incorporate new elements into the chocolate that have health benefits as well (Boyd, 2018). The reintroduction of chocolate as a healthy indulgence in a society whose population is skewing towards the older generations has boosted sales for these companies. In Thailand, also growing increasingly health conscious, Glico also introduced sugar-free chocolate products to cater to the growing consumer base (Nikkei Asian Review, 2017).
One of Japanese companies' strengths is refusing to assume that products will work and sell uniformly in the whole of the Asian market. Companies such as Hershey have been largely criticized for their inability to adapt to Chinese tastes, opting to stay with flavorings popular in North America and Europe (Reuters, 2017). Japanese companies are trying to ingrain themselves in specific domestic markets that reflect the consumers' preferences and tastes.
Playing to the Culture- Both Good and Bad
One advantage of Japanese companies is an innate understanding of the culture surrounding chocolate of gift giving as Japanese consumers fall into this category as well. Commercials such as the one shown below are typical, targeting younger females with both star power and message. The female students are giving each other chocolates, trying to reinforce the idea that chocolates gifts are not just for significant others, but also for friends. A pivotal moment in the commercial is the comparison in the size of the gifts, encouraging consumers to buy bigger chocolate products.
Women as targets for Valentine's Day ads also reveal a cultural difference between Western and Asian practices. While it is typically the men that gift chocolate in western countries, it is the opposite in Asia. Women are expected to gift chocolate on Valentine's Day to significant others, potential significant others, and/or friends and coworkers. In return, men are expected to respond by returning the favor on White Day, exactly a month after Valentine's Day (Adelstein,"How Japan Created White Day," 2018). This new holiday created in Japan in the 1970s has spread to other parts of Asia and played into gender norms and expectations.
These commercials also serve to perpetuate female gender stereotypes of how Asian girls should look and act. Emma Robertson in Chocolate, Women and Empire identified many of the gendered marketing techniques utilized in the chocolate industry in the West such as women in maternal roles or slaves to chocolate (2010, 20, 33). Japanese companies have followed in that tradition in similar yet different ways. The idealized "cute" Japanese girl in the uniform is a typical, one-dimensional archetype that dominates portrayals of women in the media. Commercials like the one above are typical representations that caters to that image. The chocolate gift is also neatly packaged in a cute, girly manner that reinforces the stereotype.
These types of commercials propagating gender stereotypes have also aired in other Asian countries. In Indonesia, Glico used the stars of Indonesia's JKT48, a spin-off girl group from the highly popular Japanese group AKB48, to market Pocky. Some of these girls portray mannequins that come to life after seeing Pocky, a message similar to the slaves of chocolate narrative identified by Robertson (33).
These commercials are part of an overarching marketing strategy that buys into and bolsters the feminization of chocolate. Due to the success of these marketing campaigns, stereotyping does not seem to be going away anytime soon. The use of celebrity star power serves in much of the Asian market to increase brand recognition and using national as well as international celebrities provides endorsement and increases sales. Thus, while companies like Meiji and Glico have managed considerable insight in recognizing the different tastes and needs of difference consumer bases, they have fallen into the trap of exploiting gender stereotypes to market their goods.
Jumping on the Gourmet Chocolate Bandwagon
THE Chocolate signaled Meiji's entry into the gourmet chocolate world. Buoyed by Japan's overall reputation of high quality products and the company's history of fostering direct relationships with cacao farmers, THE Chocolate was a hit for both consumers and Instagram (Adelstein, "The Meteoric Rise of Meiji," 2018). Similar to western gourmet chocolate brands, THE Chocolate includes a flavor profile and has a distinct take on the chocolate bar. Despite the overall quality and thought placed into THE Chocolate, it was sold for just ¥220, equalling less than $2.00 USD. It became so popular that the wrapping was replicated on phone cases.
Meiji's foray into gourmet chocolate reflects the changing landscape of Japanese consumers as well as other portions of the east Asian middle class. With its emphasis on understanding the origins of the cacao bean, health benefits of dark chocolate, and complexity of taste, it caters to an increasingly sophisticated palate indicative of the growing number of chocolate connoisseurs. Whether it be regarding wine, fine dining, or chocolate, Meiji tapped into a bourgeoning base of chocolate fanatics present among the middle and upper class. Thus, while it caters to a smaller niche of individuals, the affordability of the bar also makes it the perfect gift: it offers fancy, high quality goods for an affordable price. It also echoes the diversity of the Asian market, even within the domestic sphere. The popularity of THE Chocolate proves the varied, transforming tastes of consumers in Asia.
The Future of Asian Markets?
Though companies such as Mars, Nestlé and Mondelez still dominate China's chocolate market, Japanese companies are slowly carving a space in the broader Asian market. For example, Meiji is looking to expand their presence in China and in Southeast Asia by 2020 (2010, 21). Whether you are in a convenience store in urban Taipei or a rural store in Cambodia and you will find delicious, chocolatey snacks from Glico or Meiji for sale. In Japan, tourists flood convenience stores to stock up on the assortment of Pocky and snacks to take home ("Japanese Snack Makers Expanding in SE Asia," 2017). These companies aim to capitalize on the obsession with Japanese snacks by expanding their foreign markets. Moreover, the expansion of these convenience stores into much of Southeast Asia holds a wealth of potential as Glico, Meiji, other major snack providers such as Lotte and Calbee as well as smaller companies like Yuraku gain easier access to distribute their goods (Iguchi, 2018).
Whether Japanese confectionery companies will actually surpass the chocolate giants is yet to be determined, but their plans for expansion into the Asian market seem to be chugging along. However, they have fallen into the same trap of utilizing gender stereotypes in their marketing strategy that serve to reinforce gender norms in societies like Japan where gender expectations are stifling its population and actually limiting its economic growth (Goto, 2016, 443). Nonetheless, Japanese companies' knack for providing a wide array of products for a varied and increasingly sophisticated consumer base as well as providing Instagram-worthy goods may give Mars, Nestlé and Mondelez a run for their money.
Bibliography
Adelstein, Jake. "How Japan Created White Day, East Asia's Alternate Valentine's Day." Forbes Magazine, March 13, 2018. https://www.forbes.com/sites/adelsteinjake/2018/03/13/how-japan-created-white-day-east-asias-alternate-valentines-day/#1d599fa4348b

Adelstein, Jake. "The Meteoric Rise Of Meiji: How A Japanese Chocolate Bar Took Over Instagram And Sold 30M Bars In 1 Year." Forbes Magazine, January 18, 2018. https://www.forbes.com/sites/adelsteinjake/2018/01/18/the-meteoric-rise-of-meiji-how-a-japanese-chocolate-bar-took-over-instagram-and-sold-30m-bars-in-1-year/#313948b1203a

Boyd, Chris. "Japan's chocolate market: Sweet spot for investors." Investment Europe, July 4, 2018. https://www.investmenteurope.net/investmenteurope/opinion/3722234/japan%E2%80%99-chocolate-market-sweet-spot-investors

Coe, Sophie D. The True History of Chocolate. 3rd ed. London: Thames & Hudson, 2013.

"Chocolate Confectionery in Japan." 2004. Chocolate Confectionery Industry Profile: Japan. MarketLine, a Progressive Digital Media business. http://search.ebscohost.com.ezp-prod1.hul.harvard.edu/login.aspx?direct=true&db=bth&AN=14752072&site=ehost-live&scope=site.

"Glico- What you Need to Know about this Japanese Product." Image.JapanWalker. Accessed April 25, 2019. https://japanwalkersea.com/glico-what-you-need-to-know-about-this-japanese-product/
Goto, Hiroko. "Will Prime Minister Abe's "Womenomics" Break Glass Ceilings in Japan?" Hastings International and Comparative Law Review 39, no. 2 (2016): 457.

"ICCO: Asian Demand for Chocolate Products to Grow Over 10% in 2012." Dow Jones Institutional News, Feb 02, 2012. http://search.proquest.com.ezp-prod1.hul.harvard.edu/docview/2129317764?accountid=11311.

Iguchi, Kosuke. "Japanese candy makers ride Southeast Asia convenience store wave." Nikkei Asian Review, February 26, 2018. https://asia.nikkei.com/Business/Business-trends/Japanese-candy-makers-ride-Southeast-Asia-convenience-store-wave

Oyatsu Cafe. "Japanese Commercial for Meiji Chocolate." Youtube. Accessed April 30, 2019. https://youtu.be/bF1sEEtXk2I

"Japanese snack makers expanding in Asia." Nikkei Asian Review, January 17, 2017. https://asia.nikkei.com/Business/Japanese-snack-makers-expanding-in-Asia

DiaryJKT48. "JKT48, Pocky CM." Youtube. Accessed May 1, 2019. https://www.youtube.com/watch?v=Yni43OyVvzQ

Martin, Carla. Chocolate, Culture and the Politics of Food. Lecture. March 13, 2019.

Meiji Co., Ltd. "Meiji THE Chocolate STORY." Accessed April 30, 2019. https://www.meiji.co.jp/sweets/chocolate/the-chocolate/en/story/

Meiji Holdings Co., Ltd. "Meiji Group 2020 Vision." Meiji, September 14, 2010. https://www.meiji.com/global/investors/business-plans/2020-vision/pdf/101108_01_e.pdf

"Meiji Photos." Favim.com. Accessed April 25, 2019. http://favim.com/meiji/
Mitsuda, Tatsuya. "From Reception to Acceptance: Chocolate in Japan, C. 1870–1935." Food and History 12, no. 1 (2014): 175-200.

Miyazumi, Tatsuro. "Meiji trying to hit Asia's sweet spots." Nikkei Asian Review, October 20, 2014. https://asia.nikkei.com/Business/Meiji-trying-to-hit-Asia-s-sweet-spots

Nieburg, Oliver. "Restacking BRICs: Chocolate makers to rethink future growth markets, says Euromonitor." Confectionery News, July 24, 2016. https://www.confectionerynews.com/Article/2016/07/25/Restacking-BRICs-Chocolate-makers-to-rethink-future-growth-markets

Nieburg, Oliver and Young, Patrick. "APAC not a 'Universal Market': Asia's Multifaceted Taste and Texture Preferences for Chocolate." Confectionery News, September 18, 2016. https://www.confectionerynews.com/Article/2016/09/19/What-are-Asian-consumers-looking-for-in-chocolate-Kadence-research

Reuters. "Hershey results disappoint as demand hurt by China." South China Morning Post, February 4, 2017. https://www.scmp.com/business/companies/article/2067981/hershey-results-disappoint-demand-hurt-china

Robertson, Emma. 2010. Chocolate, Women and Empire: A Social and Cultural History.pp. 1-131
Sese, Shuichiro. "Glico looks to SE Asia to build Pocky's popularity." Nikkei Asian Review, February 4, 2014. https://asia.nikkei.com/Business/Glico-looks-to-SE-Asia-to-build-Pocky-s-popularity