By Charlie Sandor
Chocolate is a main-stay for American consumers and comes in a variety of forms. In 2016, there were 1,200 firms producing chocolate and cocoa products that were worth around $14.5 Billion (Bureau, U. S. Census, 2019). In Harvard Square, there are several stores that sell significant quantities of chocolate, ranging from mass-produced Hershey and Mars products to gourmet offerings from Godiva, Toblerone, Taza, and many others. After visiting several retailers in Harvard Square that sell chocolate, I decided to focus on Cardullo's Gourmet Shoppe, which sells a variety of high-quality chocolates. Cardullo's also has a very visible location, a targeted audience, interesting product placement, and high-quality offerings from well established brands.
Cardullo's Prime Location
            One of the primary facets of Cardullo's Gourmet Shoppe is its location. Cardullo's has two locations with one being centrally located in Harvard Square on Brattle Street and the other being in the up and coming Seaport area of Boston. For this paper, I will be focusing on the store on Brattle Street. This location is in the center of Harvard Square, which provides the store with visibility to students, tourists, and any commuters in the surrounding area as it is across the street from the Harvard Square MBTA stop. Furthermore, the store's primary competitor in the area, L.A. Burdick Homemade Chocolates, is located a few blocks away on the outskirts of Harvard Square. Cardullo's is further differentiated from L.A. Burdick, as they offer several complementary products to their chocolate offerings. While, CVS, another provider of chocolate in Harvard Square, is located across the street from Cardullo's, the stores are not direct competitors as they target separate audiences and have contrasting chocolate offerings.
Intended Audience
           Cardullo's coveted, central location in Harvard Square allows the store to effectively market its offerings of chocolate and other gourmet goods to a specific audience. The chocolate product offerings within in the store indicate the targeted audience for Cardullo's as the average chocolate bar in the store sells between $5 and $8. This is significantly higher than the $1-2 price range of the mass-produced Hershey and Mars chocolate products that are sold in the CVS across the street (Cardullo's, 2019). Furthermore, Cardullo's also offers gourmet assortment boxes that sell from $15 to $60 depending on the number of chocolate pieces. These product offerings indicate that the store targets an affluent customer that has significant spending power and focuses on the quality of the product, such as a middle-class working individual or tourist.
This assumed targeted audience based of a Cardullo's chocolate offerings is further reinforced by the other products that are carried by Cardullo's, such as high-quality, expensive wife and imported cheeses and deli meats. These products are symbolic of the name of the store, Cardullo's Gourmet Shoppe and show the company's commitment to high-quality products and focus on higher-income individuals.
Product Placement within the Store
One of the unique features of Cardullo's is the nature of its product placement and organization. The store is divided into two halves. The left half of the store contains the deli and associated gourmet grocery goods, such as imported olives, caviar, and various charcuterie products. The right half of the store is the primary half of interest as it contains Cardullo's various gourmet chocolate offerings and its extensive collection of wines. The pairing of chocolate and wine is fitting as both are viewed as luxury goods and carry rather significant prices in this store compared with lower-quality, mass-produced chocolates and wines. The price discrepancy of chocolate offerings between Cardullo's and CVS Is discussed above and below the specific brands of chocolate sold in Cardullo's will be discussed.
Brand Analysis
Cardullo's offers a wide variety of chocolate products from companies that range in size from global chocolate producers to independent, family-owned chocolate companies. The primary brands that occupy a significant amount of shelf-space in the store are Godiva, Neuhaus, Taza Chocolate and Lake Champlain Chocolate. In addition to these five brands, there are individual chocolate bars from a variety of small gourmet chocolate companies. Below, I will go into an analysis of each of the five main brands to provide information on their origination, sourcing, production, and any ethical concerns surrounding the companies.
Godiva:
           Godiva is a world-renowned, Belgian producer of gourmet chocolate that was founded in 1926. Godiva's primary products are gift boxes that contain an assortment of small, bite-sized chocolates. These are the products that are displayed in Cardullo's with the store offering Godiva truffles for $25, 16-piece assortment boxes for $35, and 32-piece assortment boxes for $60 (Cardullo's, 2019). Cardullo's also carries Godiva's Gift Sets that range from 8-piece, $18, to 36-piece, $50, assortment boxes. These products are at the highest end of prices at the store, reflecting the luxury reputation and high-quality offerings of Godiva. These product offerings are reflective of the tastes of the store's targeted audience that was previously discussed.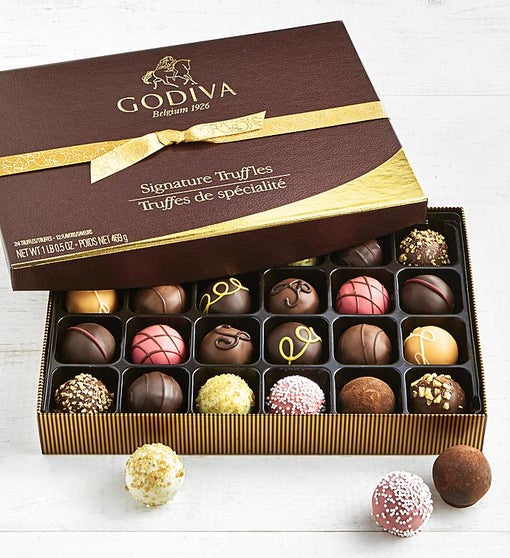 In addition to providing high-quality, expensive products, Godiva places a significant emphasis of conducting a sustainable business and focuses on doing what is right. Godiva's website provides information on many of the sustainability initiatives that Godiva participates in. They are a member of the World Cocoa Foundation (WCF), which is a leading non-profit that works to increase the productivity and profits of local cocoa farmers. Additionally, Godiva partners with Save the Children, a non-profit that focuses on improving the conditions of children across nearly 120 countries. This non-profit has over two decades of experience working in Côte d' Ivoire. Godiva also created its own Lady Godiva Program, which focuses on empowering women. This program partners with FEED Projects, to sell exclusive FEED products with the profits funding over 300,000 school meals for children in countries of West Africa. Lastly, Godiva signed the Cocoa Forest Initiative (CFI) to signal its commit to end deforestation and forest degradation in the cocoa supply chain (Godiva Cares, 2019)
Without a doubt, Godiva's efforts are at the front of initiatives undertaken by global chocolate producers. However, Godiva has yet to achieve 100% sustainability and ensure that it's supply chain is completely free of child labor. Godiva has committed to reaching these goals by the end of 2020, so within in the next two years. I believe that the company will be able to reach these goals with all of its current initiatives. Even though Godiva production lines are not entirely ethically secure, I believe the company has done a great of leading by example and committing to a sustainable production line in the future and supporting local communities in Cocoa growing regions.
Neuhaus:
           Neuhaus Chocolate is another Belgian chocolate company that traces its roots back to 1857. Arguably, the most significant contribution of Neuhaus was the creation of the Belgian 'praline', a chocolate with a cream ganache center. Similar to Godiva's offerings in Cardullo's, Neuhaus products consist of an 8-piece, 15-piece, and 17-piece assortment boxes that sell for $18, $30, and $33, respectively (Cardullo's, 2019). These offerings span both individual purchases, with the 8-piece assortments, and gift purchases, with the 15 and 17-piece assortments, as well as larger 25-piece assortment boxes.
           Neuhaus specifically produces bite-sized chocolates from high-quality cocoa. They source their cocoa from a variety of countries, such as Peru, Ecuador, Ghana, Côte d' Ivoire, and Madagascar (Neuhaus Belgian Chocolate). Unfortunately, the website contains very little information on the supply-chain of its chocolates and its sustainability efforts. Furthermore, there is no clear documentation of Neuhaus participating in the wide-branching initiatives, such as the WCF. This lack of transparency with regards to their supply chain leads me to be skeptical of any guarantee towards an ethically sourcing of their cocoa and to question their motivations and priorities as a company.
Taza Chocolate :
Unlike Godiva and Neuhaus, Taza Chocolate is an American-based company that focuses on producing chocolate bars. Taza is a relatively new company that was launched by Alex Whitmore in 2005. The company's original chocolate factory is in Somerville, MA, which is only one town over from Cardullo's Brattle Street Location. The company is a great example of a "Bean to Bar" chocolate company that works directly with cocoa farmers to ethically source their cocoa.
           Taza is known for creating the chocolate industry's first third-party Direct Trade sourcing program, known as Taza Direct Trade. Taza meets with all of its growers directly to guarantee fair labor practices. Additionally, the company pays their growers prices that are significantly higher than the already premium prices of Fair-Trade Chocolate. Above all of this, the company releases their Annual Cacao Sourcing Transparency Report, which details where they source their chocolate from and the prices they pay for their chocolate. Their Direct Trade claims are also independently verified by Quality Certification Services (Taza Direct Trade).
Taza Chocolate sets the gold standard when it comes to ensuring an ethically sound supply chain and commitment to the improvement and sustainability of their cocoa growers. However, the smaller size of Taza Chocolate provides the company with a distinct advantage over global companies, such as Godiva, in its efforts to guarantee ethical practices among its growers.
Lake Champlain Chocolate:
           Similar to Taza Chocolate, Lake Champlain Chocolate is another independent chocolate company located in Vermont. Lake Champlain was founded in 1983 and focuses on producing non -GMO and ethically sourced chocolate. They're known for their truffles and signature Five-Star Bars. Lake Champlain Chocolate products have the most visible placement within Cardullo's Gourmet Shoppe as the display of their products is right as you walk in. Their products range from peanut butter and sea salt caramel chocolates to assort truffles to assortment boxes.
           Lake Champlain has taken several steps to ensure and display its commitments to ethical and sustainable sourcing. Lake Champlain is a "B Corporation", which evaluates the entire business of a company, taking into consideration the company's impact on their environment, workers, customers, and community with the goal of leaving a positive impact on all of these facets (About B Corps, 2019). Furthermore, the company has 100% fair-trade sourcing for its chocolate with certifications from two third-party organizations, Fair for Life and Fair-Trade USA. These certifications ensure that their suppliers maintain fair labor practices (Fair Trade Chocolate, 2019).
While Lake Champlain's sourcing efforts fall short of the gold standard of Taza Chocolate's Direct Trade approach, the company places a great emphasis on the Fair-Trade nature of all its chocolate. Consumers should have trust that this company's chocolate is ethically sourced and relies on fair labor practices.
Concluding Comments:
            Cardullo's Gourmet Shoppe's prime location on Brattle Street in the midst of Harvard Square allows the company to effectively market its selection of high-quality, gourmet chocolates to their affluent consumer base. The store benefits from pairing their gourmet chocolate products with high-quality wines and charcuterie products. Furthermore, the selection of chocolates contained within Cardullo's store, reveals a lot about the focus of the store. A brand analysis of the primary products offered at the Brattle Street store shows that the primary brands are either Direct Trade Certified (Taza Chocolate), Fair-Trade certified (Lake Champlain), or have made significant commitments to sustainable sourcing (Godiva). Neuhaus Chocolate is one exception as the company provides very little transparency with regards to their supply chain and sustainability initiatives. Overall, it can be concluded that Cardullo's places an emphasis on gourmet chocolate that prioritize ethical sourcing practices and show a commitment to their community.
Works Cited:
About B Corps | Certified B Corporation. https://bcorporation.net/about-b-corps. Accessed 4 May 2019.
Bureau, U. S. Census. U.S. Census Bureau Daily Feature for June 3: Sugar Rush. https://www.prnewswire.com/news-releases/us-census-bureau-daily-feature-for-june-3-sugar-rush-300276222.html. Accessed 4 May 2019.
"Cardullo's Gift Baskets and Fine Wines." Cardullo's Gourmet Shoppe, https://cardullos.com/. Accessed 4 May 2019.
Certified B Corporation | Lake Champlain Chocolates. https://www.lakechamplainchocolates.com/b-corporation. Accessed 4 May 2019.
Chocolate and Candy, America Eats, from Life in the USA: The Complete Guide for Immigrants and Americans. http://www.lifeintheusa.com/food/chocolate.htm. Accessed 4 May 2019.
Fair Trade Chocolate: What It Is & Where to Buy Fair Trade Chocolates. https://www.lakechamplainchocolates.com/fair-trade-chocolate. Accessed 4 May 2019.
Godiva Cares. https://www.godiva.com/godiva_cares/godiva_cares.html. Accessed 4 May 2019.
How Large Is the Chocolate Industry? https://smallbusiness.chron.com/large-chocolate-industry-55639.html. Accessed 4 May 2019.
"Neuhaus Belgian Chocolate USA | Belgian Chocolates | Belgium Chocolate." Neuhaus Belgian Chocolate, http://www.neuhauschocolate.com/index-en.htm. Accessed 4 May 2019.
"Taza Direct Trade." Taza Chocolate, https://www.tazachocolate.com/pages/taza-direct-trade. Accessed 4 May 2019.