Disclaimer: While this is an ethnographic look at the Piety and Desire Chocolate brand, it is incomplete simply for the fact that I have not actually seen the store, factory, or products in person myself, nor have I ever visited New Orleans or conducted significant research of the sociocultural atmosphere of the place. This post is also strictly meant to be read in an academic and is not an endorsement of the Piety & Desire Chocolate brand, nor is it sponsored by the company.
Meet Piety and Desire Chocolate
Piety and Desire Chocolate is a craft "chocolaterie" in New Orleans, Louisiana, not far from the French Quarter. Owner and chocolate maker Christopher Nobles opened the "factory and boutique" in 2017 and has started making a name for the brand in the realm of local, artisanal products in New Orleans. I encountered them surfing the "#beantobar" tag on Instagram, evidence of the brand's commitment to marketing its process as a way to distinguish itself in a competitive food market.
According to their website, the brand describes itself as:
Piety and Desire Chocolate mines the fine lines. Just as its holy beginnings as a "food of the gods" led to its transformation into a seductive delight, so we strive to strike the perfect harmony between reverence and passion in the balance of science and art, the parity of piety and desire.
Detail-oriented and passionate about their product, Piety and Desire appears to uphold the commitment to high-quality products of the craft food movement. (Martin) The name of the company is striking, too, and clearly important to the business's philosophy of chocolate making. Piety and desire – both human elements with long histories with cocoa – are at the foundations of the company's motivation, according to an interview with Nobles:
I wanted a name that reflected my family's six-ish generations of New Orleans history in an honorable, non-fleur-de-lis-laden or culturally appropriated fashion… I'm the third of the past five generations to settle in (Faubourg) Marigny. [The name] Piety and Desire mirrors the history of cacao itself. Beginning as a sacred food of the gods in ancient Mesoamerica (among many spiritual aspects), these noble seeds also represented more secular aspects of life, from its use as a currency to its use as an aphrodisiac.

Christopher Nobles, Freund interview
Immediately from these two sources of information about the company, its website and its owner, a prospective consumer is marketed a product that is desirable for more than just its taste – it is desirable for its cultural and religious symbolism, for its connection to nobility, and for the sensual experience so highly associated with it.
Another important part of the company's model is its commitment to the environment. According to its frequently asked questions section, the company website states:
Not only are our chocolate bars are all packaged with recycled paper and compostable cellophane, but the outside sleeve is wildflower-seed-infused. You can simply plant this sleeve to support your local pollinators!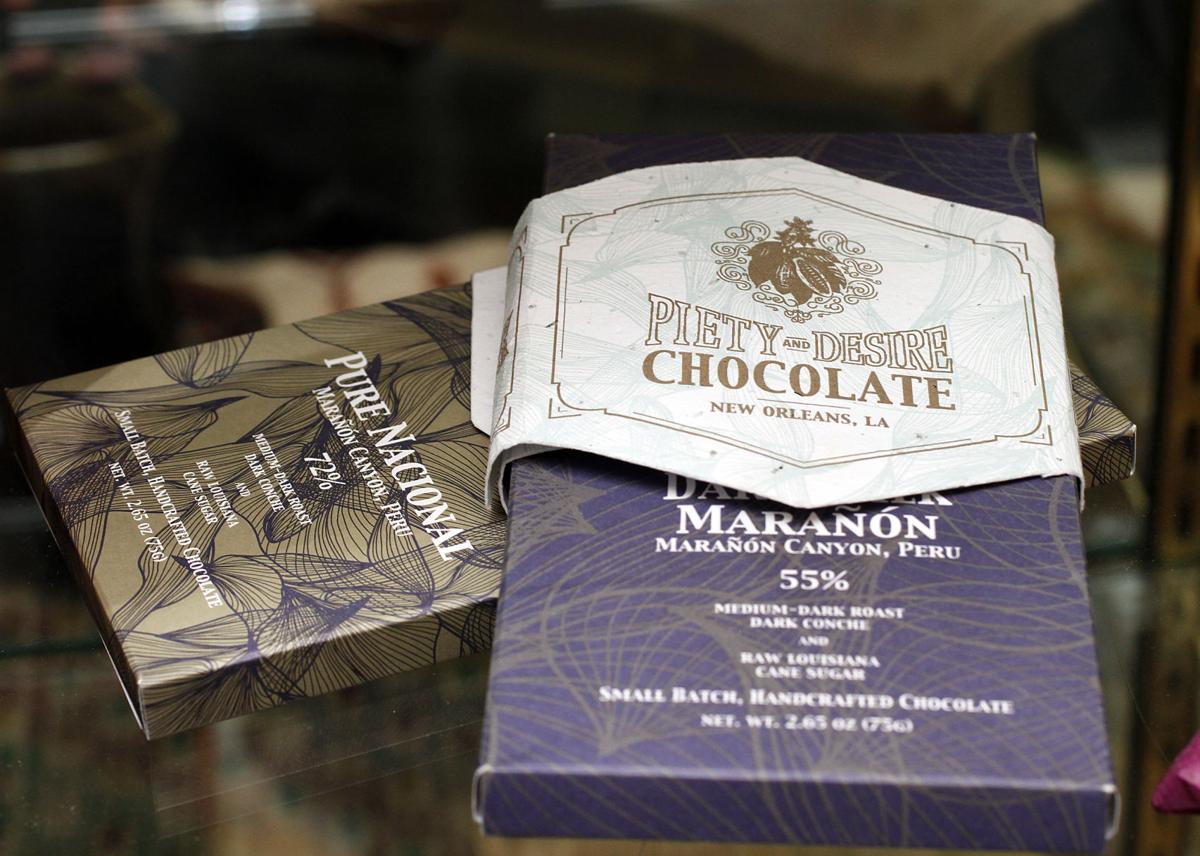 This specific packaging choice shows a real dedication to environmental issues and the health of the planet. In addition to recyclability, compostability, and the extra benefit of encouraging consumers to plant wildflowers after indulging in their confections, Piety and Desire also offers vegan options among its products. The impact of veganism of the environment is a highly contentious issue, but including vegan products widens the audience of the store such that people who may already be concerned about the environment (and thus choose to be vegan) are more likely to bring their patronage.
The packaging also points to another result of Piety and Desire's bean-to-bar philosophy: it lacks many certifications that some would expect as givens for a craft chocolaterie. They are not certified organic, according to their frequently asked questions, but the company offers a worthy explanation as to why they do not have this certification for the cacao they buy. Bean-to-bar chocolate requires a certain level of engagement between chocolate makers and cacao farmers that does not exist in other corners of the industry. By pointing out that the cacao they buy is most likely grown organically but grown by farmers who may not be able to afford the fees associated with official certification, Piety and Desire goes one step further and puts their customers in direct conversation with the farmers who supply their cacao. Consumers who talk with Nobles or read their website, or even scroll through their Instagram account, are made to think about the conditions of cacao farmers. Piety and Desire engages in direct and conscious trade, lacking a "fair trade" certification, as well. The willingness to explain why these perhaps-expected certifications are absent is very positive because, as we have seen since our first lecture, not all certifications mean what we as consumers may think that they mean. (Martin, "Chocolate Politics…) Ethical actions do not always come with labels to brand them as such.
More Context
One cannot discuss Piety and Desire Chocolate without discussing New Orleans. The culture and history of the place is inextricably linked to the chocolate that Piety and Desire creates in many different ways.
//www.instagram.com/embed.js
The flavors and shapes of the bonbons that Nobles crafts in-house are very specifically situate the brand in New Orleans. From King Cake and Sazerac bonbons to the use of very New Orleans flavors like bourbon, coffee, and rum, the brand appeals to local tastes.
Nobles also specifies that he uses "100% raw Louisiana cane sugar" in all his products in various interviews, on the packaging for Piety and Desire Chocolate, and on their website. Despite the historical connection between cane sugar production and plantation slavery (in Louisiana, no less), the use of a local sugar to sweeten the chocolates and confections he makes seems to be seen as a point of pride and a dedication to crafting high quality products. After all, emblazoning "made with 100% raw Louisiana cane sugar" on packaging makes it into a marketing tactic.
In this vein, I became interested to know more about this "raw" sugar. Piety and Desire Chocolate uses sugar from Three Brothers Farms in Louisiana, a family owned operation. As we know, to get to any crystalline form of sugar, heating is necessary (Mintz, pp. 21); therefore, the "raw" label of this sugar boggled me. Having discussed the use of buzz words like "raw" in class as a tactic to increase perception of chocolate as a healthy food, it is unsurprising to see on this packaging, especially having seen packets of "Sugar in the Raw©" in coffee shops all around Harvard Square. But I digress.
On top of using local flavors, cultural institutions like Mardi Gras, and some local ingredients, the language used in the official company Instagram page was fascinating to me. Here, I wish that I had more personal knowledge of New Orleans' cultural norms, especially due to the complicated and fraught racial history of the region, but I will attempt to unpack what I can. The language used, presumably by Nobles as the proprietor of Piety and Desire Chocolate, very clearly uses ebonics and stylized writing in order to communicate a "blaccent."
//www.instagram.com/embed.js
This reminded me of Robertson's discussion on how people talk about chocolate:
In the mythology of chocolate the power relations of production and consumption are subsumed by a more attractive narrative of exotic peoples and their surroundings, and by historical anecdote. Chocolate seems to generate a particular type of history writings – even in purportedly 'academic' texts – one which delves unashamedly into the realms of fantasy and romance.


Robertson, pp. 85-6)
A huge aspect of white fantasy is the fantasy of black bodies, black actions, and black words – we can see as much is the gentrification of hip hop and rap by artists like Iggy Azalea and Miley Cyrus, to point to one modern example. The use of the blaccent in advertising initially made me, as a spectator, imagine that the person making this chocolate was black. Of course, as someone very far removed from New Orleans, I am not sure this is a fair assumption to have had, but it was an assumption nonetheless. Then, through my research, I saw that Christopher Nobles was the owner of Piety and Desire Chocolate – a white man.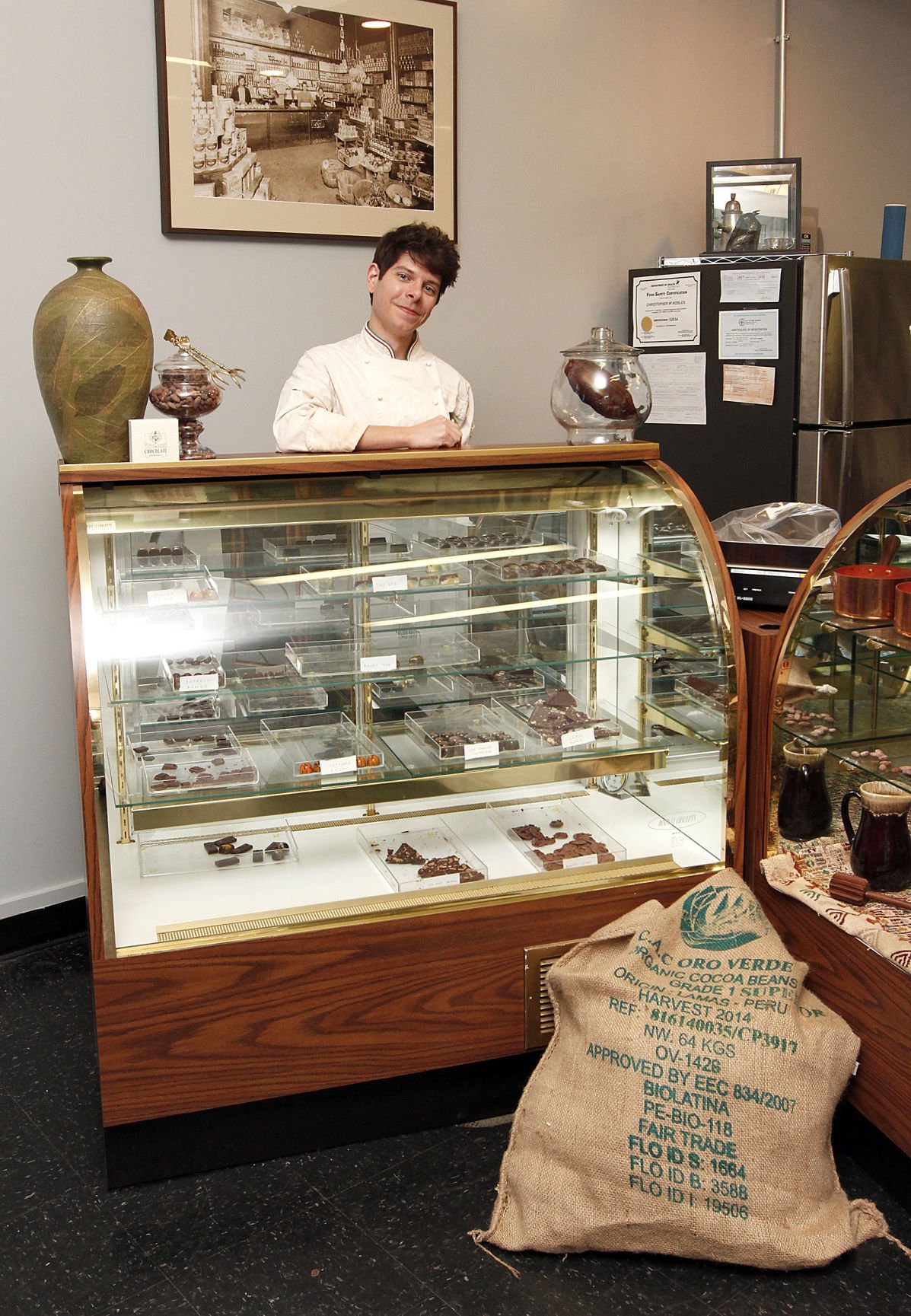 This context put almost everything I had thought about Piety and Desire in a new light. While there are bonbons in the store's offerings that use common, locally-based flavor profiles, there were also more complex, rare flavor offerings including saffron, matcha, jasmine, and goat cheese, to name a few. While there may may be no such thing as an "average consumer," (Martin, "Haute patisserie…") and generalizations simply do not apply in the real world of consumer palates, seeing flavors like this – flavors that a consumer could never find in the candy isle of a drug store – made me think even more about Piety and Desire's audience. As someone from a low-income background, I know that I have seen my family members turn their noses up at flavors which come from outside our comfort zone or flavors which have been marketed in such a way as to emphasize their "gourmet" qualities (one immediately thinks of truffle, for example). I wonder if this, too, is something that narrows the audience of a craft chocolate store like Piety and Desire, and how that can be amended – I firmly believe that flavors should not belong to certain classes, as food is a human right.
Without a detailed investigation of the demographics Piety and Desire serves, one cannot be certain of any sort of racial or class-based disparity in consumers, especially not in terms of flavor-profiling according to generalized perceptions of different races/classes. It is simply something to that I thought about as I continued to learn about the company; it became especially curious to me when I found this post on the company's Instagram:
//www.instagram.com/embed.js
I encountered it twice – once before seeing that Christopher Nobles was white, and then again after. My first impression was that the brand was attempting to raise awareness of cacao slavery and use its platform to try to inspire change. Additionally, giving away chocolate, however small of a boon it may seem in the grand scheme of things, seemed to be a form of reparations for a community which has been seeking long-deserved justice and reparations for generations. Before going more in depth on this particular topic, I'd like to evaluate the ethical stances of Piety and Desire Chocolate as a company more broadly.
Ethical Criteria
In an interview, Nobles is quoted as saying:
…our movement [craft chocolate] being a global business has a greater thread of social responsibility. Many of us go above and beyond the standards of Fair Trade, paying many times more than that price directly to producers, cooperatives and farmers in what's known as direct or conscious trade. I feel it's my responsibility to source from organic sources, who, by intercropping or abandoning less environmentally sustainable agricultural models, make the world a little bit greener.

Christopher Nobles
The ethical awareness, then, can be seen as foundational to the company's operations. Beyond operations, the company's impact on the consumer seems to be targeted as well, as best as these things can be. Without tasting the chocolate, the true sense evidence that would be able to tell someone if Piety and Desire Chocolate is doing anything different from the crowd of commodity chocolate brands with its chocolate, I am not sure I can address this; however, from its attempts to educate consumers not only about how its chocolate is made but also about social issues surrounding cocoa production, I think that Piety and Desire Chocolate is very good to its consumers.
Another positive aspect is the commitment to environmental health, evidenced by packaging choices that go above and beyond sustainability. While the pleasure-based language of much of its advertising does lead me to believe that physical health is not a priority of Piety and Desire, its use of local and some organic ingredients as part of the craft food movement, putting it in opposition to the heavily processed commodity food industry, makes me more hopeful about its health consciousness as a company. It is also transparent about its production process, both enumerating steps on its website and having an open-space design in its shop that allows consumers to see different stages of chocolate production.
Tying back to the conversation on Juneteenth, slavery, and reparations, an issue I had with Piety and Desire Chocolate's model is that they seem not to use West African cacao. We know that most cacao comes from West African farmers, but that the craft food movement has been loath to use West African cacao due to questions of quality. (Martin, "Haute patisserie…") Additionally, the McNulty article on Piety and Desire Chocolate stated that "Beans arrive fermented and dried in burlap sacks from farms in Central America and South America," implying that there is no use of West African cacao in the company's products. Of course, a direct inquiry in necessary to ascertain the validity of that claim, but operating on that assumption reveals some hypocrisy in the brand's supposed activism.
How can Piety and Desire say that it is trying to promote awareness of the slavery in cacao farms when their direct/conscious trade cacao is not from West Africa, where this problem is the worst? How can they tie together the historical trauma of slavery in Louisiana to the slavery of modern day cacao farmers without acknowledging the greater similarity: that both involved the exploitation of West African people by white people? (Off) By not buying West African cacao, Piety and Desire is also not helping to end slavery on West African cacao farms. Using this tactic and connection to promote itself to an audience that likely includes people of the African diaspora in Louisiana seems tone deaf.
In conclusion, Piety and Desire Chocolate seems to have been founded from a place of immense privilege, as most artisanal chocolate is. This does not mean that their products are not created ethically or of lesser quality than they could be, but that they are simply one of many craft chocolate companies attempting to makes its mark on the industry without making much of an impact on the actual issues endemic to the industry. I think that Piety and Desire Chocolate does its part as well as it can in the context of the craft food movement, but I would like to know more about their pricing, the sources of their cacao, and the demographics of their customers.
Works Cited
@ianmcnultynola. "King cake bonbons…" Instagram, 13 February 2019, https://www.instagram.com/p/Bt1aQBggiyp/.
@pietydesirechoc. "Happy Juneteenth!.." Instagram, 19 June 2018, www.instagram.com/p/BkODxIUHeGP/.
@pietydesirechoc. "It's Straw-bar-ry Season.." Instagram, 6 April 2019, http://www.instagram.com/p/Bv7ELcaF2KL/.
Coe, S., & Coe, M. (2019). The true history of chocolate (Third edition.) London: Thames and Hudson.
Erath, Daniel. "Chris Nobles of Piety and Desire Chocolate." The Advocate, 5 Dec. 2017, www.theadvocate.com/new_orleans/entertainment_life/food_restaurants/article_1468114e-d60a-11e7-8178-b3d70175a23f.html.
Erath, Daniel. "Piety and Desire Chocolate Bar." The Advocate, 5 Dec. 2017, http://www.theadvocate.com/new_orleans/entertainment_life/food_restaurants/article_1468114e-d60a-11e7-8178-b3d70175a23f.html.
Freund, Helen. "3-Course Interview: Christopher Nobles, Chocolate Maker." The Advocate, 18 Dec. 2017, www.theadvocate.com/gambit/new_orleans/food_drink/article_77c464b4-95cf-5290-87c5-771bc95a647f.html.
Leissle, K. (2018). Cocoa. Medford, MA: Polity Press.
Martin, C. (2019) AFRAMER 119X: Chocolate, Culture, and the Politics of Food: "20190501 Haute patisserie, artisan chocolate, and food justice: the future?" and "20190220 Sugar and cacao" and "Chocolate Politics: How History, Multinational Corporations, Governments, NGOs, and Critics Influence the Chocolate We Eat" [Powerpoint slides]. Retrieved from drive.google.com/drive/folders/1DEbPgnxsDAOhcgOsW0sHLyafD5yVuPUK.
McNulty, Ian. "From Bean to Bar to South Broad Street with the New Piety and Desire Chocolate." The Advocate, 5 Dec. 2017, http://www.theadvocate.com/new_orleans/entertainment_life/food_restaurants/article_1468114e-d60a-11e7-8178-b3d70175a23f.html.
Mintz, S. (1985). Sweetness and power: the place of sugar in modern history. New York, N.Y.: Viking Penguin, Inc.
Off, Carol. 2008. Bitter Chocolate: The Dark Side of the World's Most Seductive Sweet. pp. 119-161.
"Piety and Desire Chocolate | New Orleans." Piety and Desire Chocolate | New Orleans, www.pietyanddesirechocolate.com/.
Robertson, Emma. 2010. Chocolate, Women and Empire: A Social and Cultural History. pp. 85-6.
Three Brothers Farm, Raw Sugar. (2014). Retrieved from https://www.threebrothersfarm.com/