Dandelion Chocolate, a small-batch chocolatier cafe, sits in San Francisco's oldest neighborhood, The Mission. Founded in 2010 by Todd Masonis as a cafe, Dandelion Chocolate has expanded to retailers across U.S and Japan, designed tours and classes, and diversified its menu offerings with several new recipes in addition to the company's handmade candy bars (2). Masonis, CEO of Dandelion Chocolate and previously a software developer, started the company with a vision to scale, to transform the chocolate industry, and to challenge people's customary view of chocolate. This paper will conduct an in-depth analysis of the company's supply chain, chocolate manufacturing process, and retail strategy. Throughout I will highlight how Dandelion's innovative techniques are challenging the Big Five chocolate makers and redefining how chocolate is produced and sold. By the end, it will be clear how Dandelion continues to be a part of the solution to the problems in the cacao-chocolate market.
Bean–To-Bar: The Supply Chain from Cacao Trees to the Dandelion Factory
Three words sum up Dandelion's supply chain — precise, sustainable, and global. As a bean-to-bar chocolatier, Dandelion emphasizes the quality of the beans it uses in its chocolate bars and menu recipes. The company focuses on simplicity. Since Dandelion "uses only two ingredients to make [their] chocolate — cocoa beans and organic cane sugar", the company has to be particular of the sourced beans' flavor profiles (2). This directly contrasts the origin, sourcing, and flavor profile of the Big Five chocolate makers. Early in Hershey's development, Milton S. Hershey hired a chemist before firing him and hiring John Schmalbach who helped create Hershey's taste profile that we still see today (4). When Schmalbach was done experimenting, he arrived at "a mild-tasting milk chocolate that had the perfect bite — like al dente pasta — that melted smoothly in the mouth" (4). This product utilized swiss condensed milk which helped Hershey easily pump, channel, and pour the chocolate through mass production. Unlike Dandelion's simple single ingredient taste profile, Hershey confuses consumers with its chocolate nutritional profile. On Hershey's site, the company states their chocolate bars are made with "simple ingredients — and never any artificial flavors, preservatives or sweeteners" (5). These ingredients include "farm fresh whole milk, cocoa 100% certified, almonds, sugar from the finest sugar plantations, and vanilla" (14). How can we believe Hershey's promises? To begin to answer this question, consumers can look at the back of Hershey's chocolate bar.
The iconic Hershey's Milk Chocolate bar wrapper from 1973-1976. Clearly, consumers can see contradictions from the website today in the ingredients section. Artifical flavoring is added (6).
The Federal Food, Drug, and Cosmetic Act require food companies to show nutrition labeling (1). Fortunately, this gives consumers the honest answer to the question stated above. Under the ingredients tab, Hershey lists that an artificial flavoring is added in addition to other ingredients that are not common to the average consumer (5). This is the first evidence of how Dandelion is redefining the chocolate market and supply chain process for the better. Dandelion is so precise with its sourcing and ingredients that it can give consumers the transparency and trust they desire. On their site, Dandelion gives a distinct background of the supply chain process, the origin of each of the beans, and the Chef's preparation technique for each of the products that it retails. These details get as precise as the cacao percentage, the single origin location, ingredients, and when the cacao beans were harvested.
This is the MAYA MOUNTAIN, BELIZE 70% chocolate bar. It is one of the many single origin chocolate bars sold on Dandelions retail site and in stores. The bar's flavor profile and the cocoa beans terror serve up beautiful "hints of honey and caramel with notes of strawberries and cream." Finally, the bars are made with just cocoa beans and sugar, no added cocoa butter, lecithin or vanilla (10). 
Consumers can be confident they are getting fine cacao and that the ingredients in their chocolate are not unhealthy with too much sugar or saturated fats. This last point is critical as chocolate makers such as Ferrara, Lindt, and Nestle are making real commitment to increase health awareness surrounding chocolate products, provide better labeling and packaging, and partner with Healthier America.
Each year Dandelion publishes a sourcing report that is easily accessible on their site. The 2016 sourcing report, 48 pages long, provides consumers with information on the executives core philosophy, the geographic location where beans sourced, the fermentation and drying style, cultivation notes, farmer's certifications, cacao beans' exporter, tasting notes, company's relationship/history with each farmer, price they paid per tonne in each region, and date of the company's last visit to the farm to do a checkup (3).
An example of all the information from the sourcing report for Bertil Akesson's organic estate in Ambanja, Madagascar, the place Dandelion purchased their first full bag of beans, is shown above (3).
Dandelion's control of the entire supply chain as a bean-to-bar chocolatier gives them the flexibility to synthesize and present all this information. 
In addition to providing precise transparency to consumers of every detail in the supply chain process, the Dandelion executives discuss the importance of sustainability in their core philosophy. Dandelion "pays a premium price for their cacao far above the world market price (that is fixed rather than dependent on an arbitrary market)" (3). This information is presented in the sourcing report. The average market price for cacao in 2016 was $2,892.16 per tonne. The least Dandelion paid for cacao $5,100.00 per tonne, the most $7,500.00 per tonne, and $6,599.00 per tonne on average.  This increase in income solves many of the cacao industry's problems. With prices at the average market price or less than half Dandelion's price, cacao farmers earn less than $2 per day in Western Africa (9).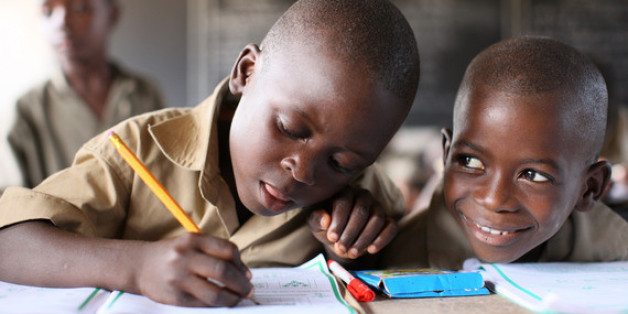 In the two pictures, we see the ethical problem in the chocolate industry. In the picture on the left, a young boy is performing hard labor with a machete to chop cacao pods from high up in a cacao tree (16). The child faces physical and developmental risks from this kind of labor. Further, the highlight the systematic effects of child labor, the lack of education, the lack of enforcement of child labor laws, and the effects of you consuming chocolate from companies who exploit these problems (17). 
The problem is most prevalent in Western Africa where stories like of 16-year-old Alhassan Ali, who took the opportunity to work on a cocoa farm in western Ghana and left his home. Quickly, Alhassan felt "cheated as life was hard" and the conditions unbearable for a teenager who had no choice after his father died.
Children are thrown into these jobs to help their families, although less than one-quarter of cacao farmers would recommend that their children go into farming and the fact that this violates international labor laws (12, 18, 8 ). The work is dangerous and the risks include fatigue, mosquito-borne diseases, and agrochemical poisoning.
Since cacao is a commodity and harvested seasonally, cacao farmers struggle with volatile income. Dandelion executives recognized this problem as they "used to buy beans as needed but sometimes that led to chaos and stress both on the part of their team as well as on the part of our suppliers" (3). In 2016, the company constructed a 5-year plan in which they would buy beans one year in advance in order to help alleviate the stress on their producers. Employees from Dandelion visit their producers each year to ensure the quality of the cacao, environmentally friendly farming practices, and sustainable conditions for the workers. If you don't believe their mission and core philosophy, then you can ask their producers themselves, since the company provides names, locations, and pictures to earn consumers' trust.
Vincente Norero, the manager of Camino Verde Cacao farm in Ecuador, sits on top of one of his machines as he explains the genetics of cacao in his region to visiting employees from Dandelion (3).  
Additionally, a major component of Dandelion's long-term planning strategy is a rigorous quality assessment beyond fine cacao or bulk cacao, which the Big Five use. This evaluation starts out "breaking down cacao producers based on physical quality, sensory evaluation, and hedonic preference" (3). Dandelion gives the producers enough feedback so that the farmers know what is the flavor profile and the terroir that the company wants.
Finally, Dandelion has created a global network of producers that provide the company with a diverse set of high-quality cacao. Dandelion strengthens relationships between the community of producers by emphasizing information sharing. Producers in different regions visit each other and share their techniques and experiences. For instance, the heads of the farm estate "Brian and Sim from Kokoa Kimili visited Zorzal in the Dominican Republic" (3). This is unlike any craft chocolate or large chocolate make and this may be the CEO Todd Masonis' secret weapon to scale the craft chocolatier business. The company has two factories across the globe in San Francisco and Japan. They both support the company's global sourcing of cacao in 7 different regions: Madagascar, Ecuador, Dominican Republic, Guatemala, Tanzania, Venezuela, and Belize. This degree of diversity is uncommon for one company. In fact, "70% of the world's cocoa is grown in the region and the vast majority of that supply comes from two countries: Ivory Coast and Ghana" (7). Dandelion not only ensures to source diverse cacao but also does not mix cacao from different regions or farms. This is powerful in the cacao in the cacao industry. Not even regulation or certifications can effectively track that companies keep to this promise like Dandelion does. 
Bean-To–Bar
: The Exquisite Manufacturing and Chocolate Production Process and Ingenious Retail Strategy
Once the factory receives the diverse, high-quality cocoa beans which have been fermented and dried in their regions, the company undergoes another precise taste tests on each batch. Surprisingly, each testing of a batch may take "as many as eight to sixteen tastings before they are happy with the taste profile" (2). Next, the batch is sorted and dirt, rocks, and defected beans are removed.

Here, the chocolatiers use a machine they built in-house to winnow and remove the shells. However, the company says that your household hair dryer would work the same (15).
A melanger is used to stir and crush beans creating small particles and more fluid chocolate state (11).
After these steps, the chocolate is packaged until it is ready to be tempered and transformed into chocolate bars.
This highly technical process ensures that each chocolate bar holds up to the company standard that no added ingredients or artificial flavoring are included in the end products. The company even offers tours and classes to teach chocolatiers their craft chocolate secrets. The whole production process is transparent. This eliminates any need for certification from organizations like Fair Trade, USDA Organic, or Rainforest Alliance. Instead, consumers are educated on the labor conditions, ingredients, quality, and health information from researching online on Dandelion's site. Dandelion utilizes this transparency and network of information to scale their consumer base and challenge the chocolate industry to have the same care for all parts of the process.
Finally, Dandelion is redefining the retail strategy for chocolate. Most people are accustomed to purchasing chocolate bars from large retail and convenience stores like CVS, Walmart, and Target. The large chocolate manufacturers spend millions on advertisements in commercials, billboards, and magazines. However, Dandelion's executives have taken a different approach. The company's first establishment, the Dandelion Chocolate Cafe, is the model for how Dandelion will transform the chocolate industry and how consumers expect to consume chocolate. Music blasts from the speakers playing a hip playlist that caters to the diverse crowd in the cafe. Children, young teens, and chocolate connoisseurs from Mission District crowd the shop on Valencia street for the chocolate wrapped in gold foil and custom wrappers, the blowtorched s'mores, or for a bag of locally roasted, single origin cocoa beans.  Adopting the executives' Silicon Valley marketing and trendy style, Dandelion Cafe consumer and sales skyrockets in its first years. The company reached "$1 million in early 2013 after opening its factory/cafe in the Mission" (19). Shortly after a year, more outposts were built in Tokoya and across California. All the while, the company has elevated its online presence with a vibrant website which hosts a blog, instructional videos, and information about each of their products and locations. What was once an antiquated industry ruled by roughly 5 chocolate manufactures is being transformed by two software engineering executives and their ambitious company to scale handmade, craft chocolate globally. No longer can the chocolate industry exploit poor working conditions in their supply chain, obscure nutritional information, or produce low quality chocolate because Dandelion Chocolate and many other craft chocolate companies businesses are transforming the industry and the consumers are recognizing this transformation.
---
Works cited
Center for Food Safety and Applied Nutrition. "Labeling & Nutrition – Small Business Nutrition Labeling Exemption."

U S Food and Drug Administration Home Page

, Center for Biologics Evaluation and Research,

www.fda.gov/Food/GuidanceRegulation/GuidanceDocumentsRegulatoryInformation/LabelingNutrition/ucm2006867.htm

.

"Dandelion Chocolate."

Dandelion Chocolate

, http://www.dandelionchocolate.com/.
"Dandelion Chocolate." Dandelion Chocolate, http://dande.li/2016SourcingReport

D'Antonio, Michael D. 2006. Hershey: Milton S. Hershey's Extraordinary Life of Wealth, Empire, and Utopian Dreams. pp. 106-126

"Fooducate."

Lose Weight & Improve Your Health with a Real Food Diet

,

www.fooducate.com/app#!page=product&id=530B67CE-E108-11DF-A102-FEFD45A4D471

.

Hershey Community Archives | Hershey's Milk Chocolate: Bar Wrappers over the Years

,

www.hersheyarchives.org/exhibits/default.aspx?ExhibitId=20&ExhibitSectionId=44

.

"Inside Big Chocolate's Child Labor Problem."

Fortune

, fortune.com/big chocolate child-labor. O'Keefe, Brian. "Inside Big Chocolate's Child Labor Problem."

Fortune

, @2018 Time Inc., fortune.com/big-chocolate-child-labor.

International Labour Organization. January 26, 2000. "Convention 182."

http://www.ilo.org/public/english/standards/relm/ilc/ilc87/com-chic.htm

. (3/01/14)

Kramer, Anna. March 6, 2013. "Women and the big business of chocolate." Oxfam America.

https://www.oxfamamerica.org/static/media/files/oxfam-fact-sheet-women-and-cocoa-screen.pdf

(9/4/17)

"MAYA MOUNTAIN, BELIZE 70%." Products, http://www.dandelionchocolate.com/store/products/maya-mountain-belize-70/#anchor.
"Melanger." Process, http://www.dandelionchocolate.com/wp-content/uploads/2013/10/about13.png.

Price, Larry C. July 10, 2013. "One Million Children Labor in Africa's Goldmines." PBS.

http://www.pbs.org/newshour/updates/world-july-dec13-burkinafaso_07-10/

. (3/03/14)

Ryan Órla.

Chocolate Nations Living and Dying for Cocoa in West Africa

. Zed Books, 2012.

"Take a Look inside Our Factory." Our Brands, http://www.hersheys.com/en_us/our-story/our-ingredients.html.
"Winnow Machine." LE GRANDE EXPERIMENT, http://www.dandelionchocolate.com/2015/05/12/le-grande-experiment-part-2-making-chocolate-steve-devries-style-in-denver/.
"Child Labor: The Dark Side of Chocolate." WilderUtopia.com, 3 Mar. 2018, http://www.wilderutopia.com/international/earth/child-labor-the-dark-side-of-chocolate/.

USA, Fair Trade. "Is There Child Labor In Your Chocolate?"

The Huffington Post

, TheHuffingtonPost.com, 7 Dec. 2017,

www.huffingtonpost.com/fair-trade-usa/is-there-child-labor-in-y_b_9169898.html

.

Martin, Carla D. "Lecture: Modern Slavery"
Shanker, Deena. "The Rise of Craft Chocolate." Bloomberg.com, Bloomberg, 7 Feb. 2017, http://www.bloomberg.com/news/features/2017-02-07/the-rise-of-craft-chocolate.