The industry stranglehold coordinated by multinational chocolate corporations loosens every time the supply-chain becomes more transparent, the cacao farmer receives a pair price for her bean, the agricultural practices on a farm are improved : every time Askinosie Chocolate sells a chocolate bar. For centuries, capitalist, imperious chocolate magnates have sought their best interests unchecked, filling their pockets at the expense of others in the supply chain, specifically the famers responsible for producing cacao beans. As a result, the current state of the chocolate industry is one in which practices are obscure as a matter of principle and farmers are less than dirt-poor with no means for uplifting themselves. Effectively, farmers have become voiceless, disempowered, and impoverished due to a supply and demand imbalance, lack of negotiating leverage , and lack of information, not to mention a pervasive industry attitude of "brush it under the rug." Dismantling the system which creates this inequality is no small task, especially when the system is one controlled by a small fraternity of some of the wealthiest and oldest corporations in the world. However, a growing segment of environmental and social conscious chocolate companies are embarking to improve the state of the industry. Many of these companies adhere to a "bean to bar" model, meaning they control every aspect of the chocolate making process from purchasing the beans to creating and selling the bars. This permits them control over the process in unique ways, allowing intervention on a more personal level and influence each step of the way. 
A particular "bean to bar" chocolate company making strides to solve issues in the cacao-chocolate supply chain is Askinosie Chocolate. Askinosie Chocolate was founded in 2005 by an ex-lawyer, Shawn Askinosie, searching to promote social responsibility in the chocolate industry. He states, "Askinosie Chocolate was born committed to fairness, sustainability, minimal environmental impact and community enhancement" (Our Story). In an attempt to further these goals, Askinosie employs a direct trade model to ameliorate many of the ailments in the supply chain. Though "direct trade" means different things for different companies, Askinosie's model puts an emphasis on fair compensation, building relationships, and empowering farmers—Askinosie's CEO takes time to make at least one visit to each partner farm every year. From a product perspective, Askinosie is dedicated to making high quality chocolate in small batches from beans imported from Ecuador, Tanzania, Amazonia, and the Philippines. Askinosie puts an emphasis on treating his farmers as partners and fostering a relationship of mutual respect and equality. He says, "If I were to treat cocoa farmers like business partners—with fairness, dignity, and respect, while making sure they receive their fair share of the income—I'd be one of the only people doing that, too" (Our Story). Though the mission of Askinosie is to make money and uplift farmers, there is also a particular emphasis on teaching people about the chocolate making process as can be seen on the website. Regarding this, Shawn says, "We're dedicated not just to making the best quality chocolate you can buy, but to making it in such a way that the more you learn about it, the better you feel about it" (Our Story).
One of the most prevalent issues in the cacao-chocolate supply chain is the compensation of farmers. Though farmer compensation has come a way since the pre-Fairtrade days of no regulations where farmers made whatever buyers were willing to pay them, cacao farmers are still severely impoverished (Fair Trade Scandal, 2014). Cacao farmers earn less than two dollars a day on average, and that's without accounting for their long, dangerous hours, as well as other costs like equipment and utilities (Kramer, 2013). This stems from multiple factors. Many advocates argue Fairtrade prices are still far too low to support a lifestyle, not to mention many small farms can't afford fair trade certification in the first place (Fair Trade Scandal, 2014). Even if a farm can afford fair trade certification there are other issues at play due to the layers involved in the cacao-chocolate supply chain. Most of the time cacao is produced by local farmers and goes through multiple buying agents before reaching an export company (Direct Trade). The Fairtrade price or market price in general is one which is paid to the export company, and as is standard in any business, there will be a fee taken by each middleman along the way. This means the export company takes a fee and the intermediate agents take fees, leaving the farmer with only a portion of the original price paid. This makes the Fairtrade price a poor metric because it says nothing about the farm gate price, or the amount of money that actually makes it back to farmers. Reports suggest that the farm gate price can be between fifty and eighty percent of the price paid at port depending on the local context (Kraft, 2019). For example, in Haiti the farm gate price can be as low as fifty percent of the market price because Haitian cacao trees often produce fewer beans so middlemen have to buy from many more farms to get enough beans (Kraft, 2019). Also other conditions like poor infrastructure on the island contribute to the lower farm gate price.
Askinosie chocolate has many practices in place to tackle the problem of low compensation for farmers, most of which are linked to or a result of their direct trade model. According to their transparency report, over the last eleven years Askinosie chocolate has paid farmers thirty-five percent above World Market Price and twenty-five percent above Fair Trade Price, on average (Transparency Report). Not only does the company pay more for their chocolate, but they also employ a profit sharing model to incentivize high quality beans from farmers. Farmers stand to gain a portion of the profit the company makes as determined by the amount of their beans used in creating the profit. Not only does this provide additional compensation to farmers, but it encourages innovation to produce better beans, ultimately leading to finer beans and greater profit sharing. In addition to the high compensation, over the past eleven years Askinosie has provided financing in over half of their transactions and offered advance payments with no interest charged (Transparency Report). Another important capability facilitated by the direct trade model is the ability to pay farmers directly. Askinosie pays farmers in person, eliminating all the usual fees taken by middlemen in the supply chain, making certain farmers, not intermediate agents, get a fair price for their beans. Considered as a whole, Askinosie pays much higher prices than average and employs profit sharing, leading to farmers getting compensated significantly more than industry standards. Of course these high prices have to be accounted for in some way and that's through the high prices charged by Askinosie, eight dollars and fifty cents for a chocolate bar. Though this is high, it's important to note buying a chocolate bar from Askinosie is not only an investment in chocolate, but an investment in farmers and sustainable, moral business practices.
Though the dizzying path of money through the cacao-chocolate supply chain is reason for investigation and concern, it isn't the only thing obfuscated in the process. Of significant concern is the path beans travel through the supply chain. In many cases, when chocolate companies don't buy beans directly from farmers, they end up with a potluck of beans of which the origin is unknown (Gross, 2015). Imagine drinking a wine from which the grapes were of unknown origin! Losing track of bean origin makes labeling chocolates accurately impossible and overall discounts the quality of beans from different regions. In addition, it remove accountability in the chocolate making process because chocolate makers have no way of identifying the farmers who produced the beans. Again, Askinosie's direct trade model provides an easy solution to this problem. Askinosie buys beans directly from the farmer,  "We control the actual importation of the beans ourselves because we are the importer. This is almost unheard of in the chocolate world" (Direct Trade). This means they know the name of the farmer who grows every bean they purchase. This allows them to label their chocolate accurately and makes the farmer accountable for bean quality. If the bean quality is bad, Askinosie can opt to not buy from the same farmer again, and if it is good then the farmer and Askinosie can partake in profit sharing. Aside from knowing the origin, this model is also helpful in maintaining the quality of the cacao beans. Askinosie workers are involved in the transportation and storage of beans straight from the farmers so there is more incentive along the supply chain to maintain the quality of the beans, as Askinosie is the company that will use the beans they transport (Direct Trade). In regard to this Askinosie's website states, "This impacts flavor because we can make sure the beans are not 'inadvertently' mixed up with other beans at origin, that they are kept safe in transit all the way to our factory from the farm" (Direct Trade). The direct trade model allows Askinosie to maintain the highest quality in their cacao beans by imparting a layer of accountability only possible when buying directly from the source.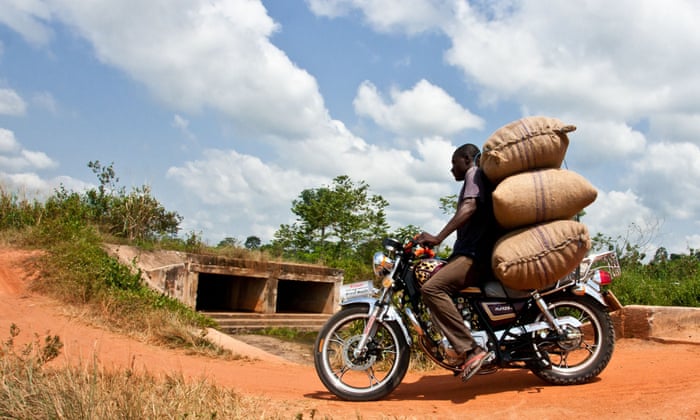 Lastly, one of the biggest concerns in the chocolate industry is monitoring the types of labor employed on farms, in particular  slave labor and child labor. Though in law, acceptable child labor practices are strictly outlined, many farmers abide by their own rules, often for the sake of saving money at the expense of the child. To address immoral child labor practices, in 1999 the Worst Forms of Child Labour Convention was adopted by the International Labour Organization (Advancing the Campaign against Child Labor, 2002). This Convention outlined and outlawed the worst forms of child labor like selling children, trafficking children, and forcing children to work in dangerous environments (Advancing the Campaign against Child Labor, 2002). Even after the International Labour Organization adopted these rules, farmers actively violated them. For example, "…hundreds of thousands of children did work on cocoa farms, often doing risky work. The IITA estimated that there were nearly 500,000 children working in hazardous conditions, carrying loads that were too heavy for them or applying pesticides" (Ryan, 2012). In cacao-producing areas of the world, children are stolen and sold into the industry then either given negligible compensation or forced to work for free (Mckenzie, 2012). These children are forced to work long hours in circumstances which violate international labor laws. Many children work from sunrise to sunset using dangerous tools like chainsaws and machetes (Lamb, 2001). Though much has been done to avoid these child labor practices, it's difficult to enforce the rules without constant monitoring, which is, again, where Askinosie's direct trade model pays dividends. According to their website, "Our contract with our cocoa farmer partners also stipulates that they use ethical business practices…this means there is no child or slave labor, and that fair wages are paid to laborers" (Direct Trade). In order to ensure farmers are abiding by their contracts, members of Askinosie visit farms and check in. If things seem unfit then they can intervene. The relationship fostering encouraged by the direct trade model allows Askinosie to monitor farms for correct practices in ways less involved chocolate companies are unable. 

Askinosie is playing their part in forcing a paradigm shift in the chocolate industry. They are working toward a world where cacao farmers are treated with respect,  are paid fair wages, and feel they have the ability to negotiate. Looking out for farmers is no easy task when considering the additional logistical and economic burdens it puts on Askinosie, especially when their competitors are not taking on these burdens. Despite the hardship, Askinosie is able to persevere due to their guiding precept of putting social responsibility at the forefront and hoping customers follow along with them. And even though they are putting in effort to make the industry transparent, there are limitations to their scope. Though the direct trade model allows for personal intervention and oversight, it has very little scope outside of the farms Askinosie partners with.  And though Askinosie can uplift the farmers they partner with, this says nothing about their ability to uplift those who they don't partner with. Though they suggest partnering with a few farms and paying higher prices can lift the price in the area at large, there is no empirical data to corroborate this. Given the limited scope of their endeavor it's important that more companies follow suite and sway industry culture in favor of those who have been disadvantaged for so long. But until then, those who provide the sustenance for the multibillion dollar chocolate industry will continue to be cogs in the system. 
Works Cited
Advancing the Campaign Against Child Labor: Addressing the Worst Forms of Child Labor. (2002). PsycEXTRA Dataset. doi:10.1037/e560492006-001
Direct Trade. (n.d.). Retrieved April 28, 2019, from https://www.askinosie.com/learn/direct-trade.html
Fair Trade Scandal: Marketing Poverty to Benefit the Rich. (2014). Ohio University Press.
Gross, D. A. (2015, February 11). The Economics of Chocolate. Retrieved from https://www.smithsonianmag.com/arts-culture/economics-chocolate-180954224/
Kraft, K. (2019, September 19). Farmgate Price: An Important – but Partial – Piece of the Sustainability Puzzle. Retrieved from https://coffeelands.crs.org/2017/09/farmgate-price-an-important-but-partial-piece-of-the-sustainability-puzzle/
Kramer, A. (2013, March 6). Women and the big business of chocolate. Retrieved from https://www.oxfamamerica.org/explore/stories/women-and-the-big-business-of-chocolate-1/
Lamb, C. (2001, April 22). The child slaves of the Ivory Coast – bought and sold for as little as £40. Retrieved from https://www.telegraph.co.uk/news/worldnews/africaandindianocean/cotedivoire/1317006/The-child-slaves-of-the-Ivory-Coast-bought-and-sold-for-as-little-as-40.html
McKenzie, D. (2012, January 19). Child slavery and chocolate: All too easy to find. Retrieved from http://thecnnfreedomproject.blogs.cnn.com/2012/01/19/child-slavery-and-chocolate-all-too-easy-to-find/
N, B. (2014, August 19). Shady Chocolate HD – Miki Mistrati. Retrieved from https://www.youtube.com/watch?v=Z5C7jmrycf0
Fairtrade Logo [Digital image]. (n.d.). Retrieved from https://www.logolynx.com/images/logolynx/80/80044c245ec298c36de07e9ea79bc8d4.png
Our Story. (n.d.). Retrieved May 01, 2019, from https://www.askinosie.com/learn/our-story.html
R. (n.d.). [A man transports cocoa beans on a motor cycle in Abengourou, Ivory Coast]. Retrieved from https://i.guim.co.uk/img/static/sys-images/Guardian/Pix/pictures/2014/11/21/1416581907306/ba2b478e-117c-4348-9753-4029402bf6fc-2060×1236.jpeg?width=700&quality=85&auto=format&fit=max&s=1cf80690da6a8b43326dbfbee5c1edb9
Ryan, Ó. (2012). Chocolate nations living and dying for cocoa in West Africa. London ; New York: Zed Books.
Transparency Report. (n.d.). Retrieved April 29, 2019, from https://www.askinosie.com/learn/transparency-report.html?SID=bf1df2bbfd5327bea597bcc97a88dae7