Chocolate: the ultimate breakup food. Who hasn't had chocolate prescribed post-heartbreak by some well-meaning friend? Modern popular media have especially promoted this trope as an essential part of the female experience, depicting devastated, gluttonous woman shoveling chocolate down their crying mouths. For example, take this iconic scene from the 2001 hit Legally Blonde when the protagonist, Elle Woods, uses chocolate to try and numb her post-breakup pain:
https://www.youtube.com/watch?v=pGauMKoX3JE
Yikes.
But from where does this trope stem from? Did someone just see a devastated, heartbroken woman and decide that the best course of action was to give her a plastic container full of sugar bombs to heal her pain? To start and investigate this question we can look before the iconic chocolate box, before even the concept of a chocolate box itself, and find that Aztec and Mayan beliefs about the spiritual and healing nature of cacao provides the foundation for modern beliefs on the properties of chocolate.
Foundations in Mayan and Aztec Beliefs
Examining ancient Maya artwork reveals that the Mayans deeply associated cacao with the gods, thus imbuing the plant with a spiritual value. The Dresden Codex—one of the four surviving Mayan manuscripts—contains many images depicting gods interacting with and even consuming cacao, like in this image, captioned "cacao is his food."
Similarly, in the Madrid Codex, gods are even depicted showering their blood over cacao pods in a powerful demonstration of their close relationship with cacao (Coe, The True History of Chocolate). Furthermore, according to David Carrasco, this relationship between the gods and cacao emerges in Mayan religion, as well. According to Carrasco, the Mayans believed that trees, such as the cacao tree, served as "metastructures of the heavens," through which the roots connected gods to the underworld, the trunk placed them in the world, and the branches extended up to the heavens (Carrasco, Religions of Mesoamerica). Therefore, the Mayan association of cacao to the gods demonstrates their belief of cacao being spiritual.
Ancient Aztec religion also placed cacao on a spiritual level. It is depicted on a ritual book called the Codex Féjérváry-Mayer where it is part of a cosmic diagram. It also took prominence in metaphors used by Aztec religious figures, in which they referred to chocolate as "heart, blood." (Coe, The True History of Chocolate). Thus, the prominence of cacao in Aztec rituals highlights their association of cacao with spirituality.
Furthermore, the Aztec and Mayan belief in the spirituality of cacao extended past just the metaphysical plane, and into everyday life. They believed in the ability of cacao to nourish not only the bodies, but also the spirits of their people.
The Maya believed that cacao drinks contained "powerful physiological effects," causing "virility, strength, and the fortitude to undertake physically demanding feats, such as marching to war" as depicted in this image of a warrior alongside a cacao tree laden with cacao pods (Leissle, Cocoa).
They also believed that the health boosting properties of cacao extended into fertility—thus, as evidenced in this image of a marriage ceremony, cacao played an important role in marriage rites, not only as currency in the bride's dowry, but also to promote fertility.
The Aztecs similarly believed in the beneficial effects of cacao on the body. Aztec society highly condemned drunkenness—a sin they deemed punishable by death. Therefore, instead of their alcoholic drink, octli, they revered cacao beverages as a healthier and more virtuous alternative (Coe, The True History of Chocolate). These beliefs that chocolate could nourish and revitalize the body demonstrates the translation of the spiritual nature of cacao into tangible benefits in the human body.
Therefore, by looking into Mayan and Aztec attitudes and associations with cacao, we can see that these ancient civilizations formed the foundation of belief around the healing and spiritual properties of cacao that still exist today.
Tracking the Colonization of Indigenous Beliefs
But how did these ancient ideas stand the test of time to exist in today's society? Examining interactions between colonizers and the Mayans illuminates the way these ancient beliefs migrated through time and space.
When colonizers came from Europe to mesoamerica in the early sixteenth century they encountered not only the Mayan people, but also their foods and beliefs. Among these foods were cacao, which was highly prevalent in Mayan society at the time as both a currency and a revered form of food. Through interactions with the Mayans, the Spanish colonizers adopted beliefs around the spiritually and physically healing properties of cacao. As cacao distribution spread as part of triangular trade, which brought goods and slaves between continents across the Atlantic, as shown on the diagram below, this belief spread through European society. In the early seventeenth century an ailing Alphonse de Richelieu brought chocolate to France for the first time in the hopes that it would help his problems with his spleen.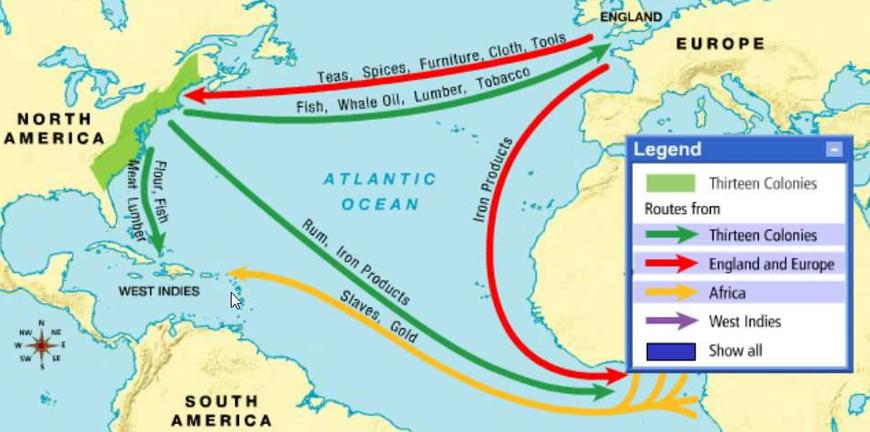 We can continue to track the belief of the healing and spiritual nature of chocolate a few centuries later by looking at the U.S army's use of chocolate rations in the second world war. The U.S. developed a sustenance they called the "D-ration bar" to maintain the energy and health of their troops. The D-ration bar contained "a blend of chocolate, sugar, cocoa butter, skim milk powder and oat flour" and was used, alongside other candy, to keep up the morale and overall nutrition of the troops (Butler, D-Day Rations). Thus, this application of chocolate to keep allied warriors going demonstrates the foundation of Aztec and Mayan beliefs around chocolate to influence the use of chocolate in modern civilization to boost nutrition and aid warriors.
Remembering Roots: Historical Significance
It's easy to look at chocolate and only see the candy. However, cacao has a long history of colonization, abuse, and enslavement—much of which still exists today. It's important to remember the history of cacao to remember that our culture does not exist in its own vacuum, but has been influenced by those who lived before us. Part of this reflection is recognizing that so much of what we have has been colonized from other countries and cultures and assimilated until they wear only the label of "today." While some may just see a heartbroken girl eating chocolate to heal herself, remembering the Mesoamerican foundation of beliefs on which our associations stand can allow us to see more than just a trope. We can see the connection between us and cultures from different parts of the world and different eras in history, helping us remember that our experiences are inextricably linked to those around us.
Works Cited
Butler, Stephanie. "D-Day Rations: How Chocolate Helped Win the War." History.com,  A&E Television Networks, 6 June 2014, www.history.com/news/d-day-rations-how-chocolate-helped-win-the-war.
Carrasco, David. Religions of Mesoamerica. Waveland Press, 2014.
Coe, Sophie D.. The True History of Chocolate . Thames & Hudson. Kindle Edition.
Leissle, Kristy. Cocoa (Resources) (p. 31). Wiley. Kindle Edition.
Martin, Carla. "20190206 Mesoamerica and the "food of the gods"" Chocolate, Culture, and the Politics of Food, February 30, 2019, Emerson Lecture Hall, Cambridge, MA. 
"Maya Civilization." Civilization.ca – Haida – Haida Art – Masks, Canadian Museum of Civilization Corporation, www.historymuseum.ca/cmc/exhibitions/civil/maya/mmc01eng.html.
Multimedia Sources
"Aztec Possum God and Cacao Beans." The Possomery, members.peak.org/~jeremy/possomery/.
Martin, Carla. "20190206 Mesoamerica and the "food of the gods"" Chocolate, Culture, and the Politics of Food, February 30, 2019, Emerson Lecture Hall, Cambridge, MA. 
Ramirez, Jason, director. Legally Blond "LIAR". YouTube, YouTube, 3 Oct. 2011, www.youtube.com/watch?v=pGauMKoX3JE.
Sergov, Gerasiminov. "Sketch Drawing Aztec Pattern Cacao Tree, Mayan Warrior with Tomahawk, Cacao Beans and Decorative Borders Yellow, Red, Green, Brown, Grey Colors on White Background ." Shutterstock, vector illustration sketch drawing aztec pattern cacao tree, mayan warrior with tomahawk, cacao beans and decorative borders yellow, red, green, brown, grey colors on white background .
Triangular Trade. http://www.mrbrownsclass.net/mercantilism–columbian-exchange–and-triangular-trade.html.