Today, if I asked a room of people to describe chocolate, they would say it is a sweet, tasty candy that you usually eat. However, if I asked people from before 200 years ago, they would call it a bitter, spicy drink. In fact for the majority of chocolate's history, the latter definition would fit better than the former. So what lead to this transformation of the taste of chocolate? The most important factor for this evolution in chocolate has to be its introduction to colonial Europeans and sugar. Interestingly, chocolate serves as a way to observe colonizers coming into contact with a strange, new substance and how their understanding and modification transformed our understandings as well. I argue that European taste for sugar and chocolate greatly impacted the modern world through the Transatlantic slave trade.
First, it is important to examine the early history of chocolate. Before the Europeans arrived in the New World, ancient Mesoamerican civilizations such as the Olmecs, Maya, and Aztecs used cacao seeds for many different reasons including consumption as a beverage. "Cacao was one of the most unusual substances in Mesoamerican life because it was comestible but also a wealth item and given as tribute eventually becoming a token of currency"(Sampeck and Thayn, 75). Cacao was extremely important, believed to have divine properties and would become known to Europeans as the food of the Gods. The picture shows a Mayan representation of two Mayan gods exchanging cacao which provides a look at the divinity of chocolate in ancient Mesoamerica (Puiu 2017).
The arrival of Europeans in Mesoamerica marked an important step in the development of chocolate. In the early 1500s, Spanish conquistadors were the first Europeans to be introduced to cacao and chocolate and import it back to Europe (Fiegl 2008). They quickly noted the love the natives had for chocolate but the Spanish themselves did not initially enjoy the drink themselves. Girolamo Benzoni, a conquistador, even described chocolate as being " more of a drink for pigs, than a drink for humanity" (Fiegl 2008). Chocolate did not yet include sugar and European tastes were not accustomed to bitter tastes in food (Altaweel et al. 2018). This preference resulted in Europeans searching for ways to change the taste.
Soon, Europeans found ways to make chocolate better fit their tastes by using sugar. By the 1590s, chocolate was mixed with honey or sugar to make it sweeter. It quickly became popular in Spain and spread to the rest of Europe (Fiegl 2008). With the conquest of South America and the beginning of sugarcane plantations, the production of sugar combined with chocolate revolutionized European tastes. Sugar consumption now increased in parallel with the importation of chocolate. The desire for chocolate and the need for sugar, in part because of chocolate, also pushed the demand for slavery in plantations during the 17th and 18th centuries (Altaweel et al. 2018). While native Latin Americans were enslaved, many of them had died due to European born diseases that they had no immunity to. As a result, there was an increase in demand for slave labor which resulted in the Transatlantic slave trade. The video below depicts how the slave trade worked and how it still affects the world today. It left a lasting impact that can be traced back to Europe's taste for chocolate.
So how did the slave trade impact the world? The slave trade left a lasting impact on many parts of the world. In Africa, as stated in the video, a majority of the slaves taken were male which meant that much of the able-bodied population was gone and demographic issues arose in the future. Also, the competition over the capturing of slaves by powerful African rulers set a dangerous precedent for the future. This competition also resulted in wars that negatively affected the political landscape of Africa to this day ( Hardy 2019).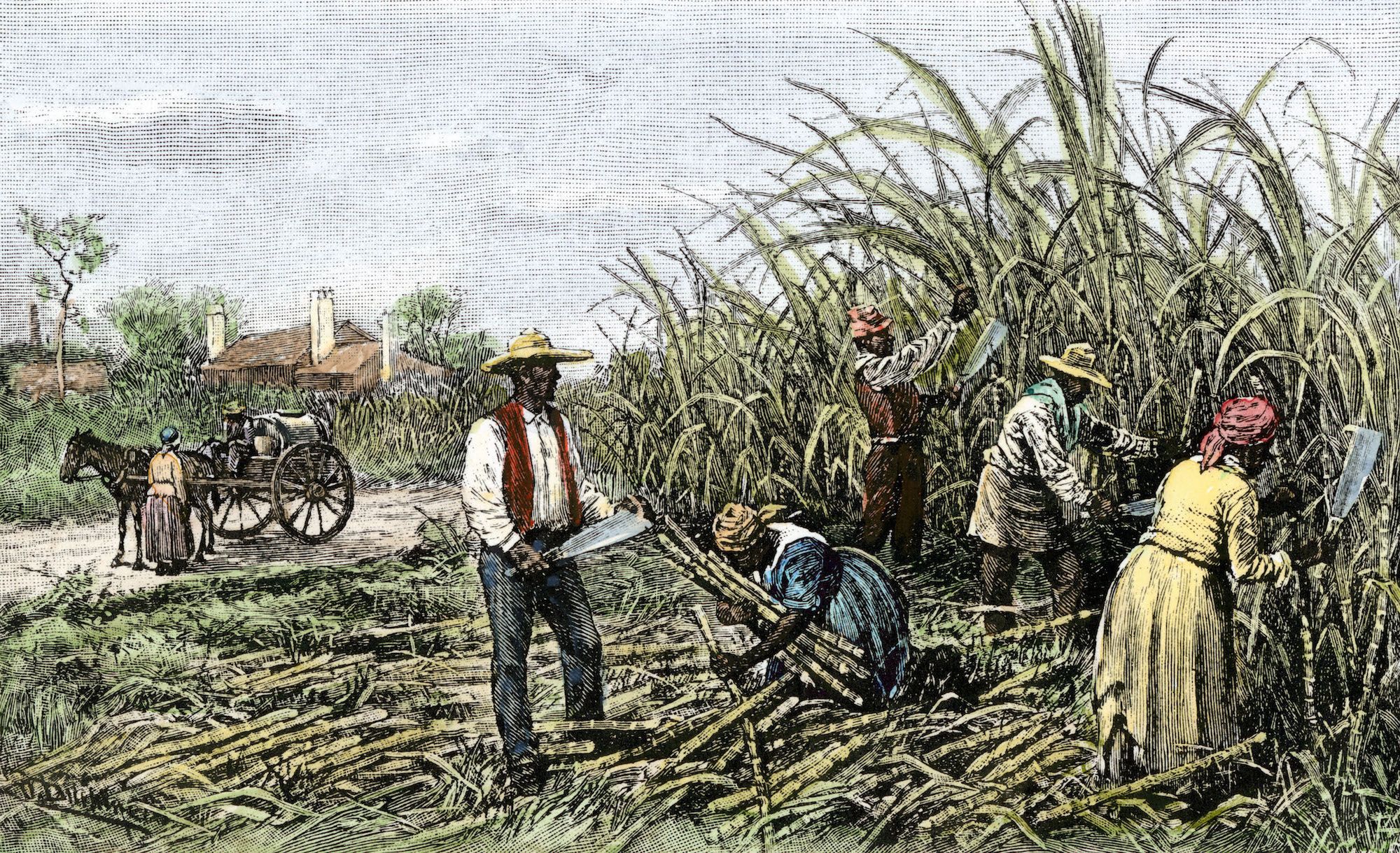 The slave trade also played a huge role in the New World. African slaves were an integral part of the development of New World economies. They were particularly important as the labor force for the plantation agriculture that became common in the New World doing much of the manual labor illustrated above. The economic exploitation of blacks left behind deep, social divides that are still being overcome today (Hardy 2019). As shown in the video above, Europeans justified their slavery through racist theories that blacks were biologically inferior to whites. These theories were passed down generation to generation as fact, therefore deepening the divide between blacks and other races(Hardy 2019).
In conclusion, European tastes for chocolate and sugar had a great effect on the modern world. It did so through the Transatlantic slave trade where slaves were taken from Africa to produce raw exports such as sugar and cacao. The repercussions of the slave trade can still be felt today because of its lasting social, political, and economic effects in Africa and the Americas. It is intriguing how so many of our lives are still deeply affected today due to the desire for commodities like chocolate and sugar.
Works Cited
Altaweel, Mark, et al. "How Did Chocolate Become Popular?" How Did Chocolate Become Popular? – DailyHistory.org, Nov. 2018, dailyhistory.org/How_Did_Chocolate_Become_Popular%3F.
Fiegl, Amanda. "A Brief History of Chocolate." Smithsonian.com, Smithsonian Institution, 1 Mar. 2008, http://www.smithsonianmag.com/arts-culture/a-brief-history-of-chocolate-21860917/.
Hardy, William. "Riches & Misery: The Consequences Of The Atlantic Slave Trade." OpenLearn, The Open University, 1 Mar. 2019, http://www.open.edu/openlearn/history-the-arts/history/riches-misery-the-consequences-the-atlantic-slave-trade.
Hazard, Anthony, director. He Atlantic Slave Trade: What Too Few Textbooks Told You. Youtube, Ted-Ed, 22 Dec. 2014, http://www.youtube.com/watch?v=3NXC4Q_4JVg.
National Geographic Society. "The Plantation System." National Geographic Society, 20 June 2019, http://www.nationalgeographic.org/encyclopedia/plantation-system/.
Puiu, Tibi. "Chocolate Files: from the Early Days to Today's Dark Pleasure." ZME Science, 13 Sept. 2017, www.zmescience.com/other/feature-post/chocolate-history-the-early-days-mesoamericans-culture-and-rituals/.
"Translating Tastes: A Cartography of Chocolate Colonialism." Substance and Seduction: Ingested Commodities in Early Modern Mesoamerica, by Kathryn E. Sampeck and Johnathan Thayn, University of Texas Press, 2017, pp. 72–95.