In a 2006 press release discussing the growing popularity American chocolatier Maribel Lieberman, the PR Newswire article stated that in the past "European chocolate reigned above all, with the chocolatiers of France setting the taste for the rest of the world" (PR Newswire, 2006). Although the article goes on to note that cocoa originated in South and Central America, the articles opening sentence clearly reflects the commonly held perception that fine chocolate comes from Europe, specifically France. The press release means to introduce Ms. Lieberman's new location for her confectionary brand, MarieBelle New York, named MarieBelle Aztec Chocolate at the Four Seasons Hotel George V in Paris (PR Newswire, 2006). In its close, the press release claims that "Lieberman will bring a sense of history and a taste of the tropics to the tables of the one of the worlds most elegant hotels" (PR Newswire, 2006). This press release defines chocolate as coming from the Americas, and fine chocolate as coming from Europe, but at no point in the press release is there any mention of Africa, where over 70% of the world's cocoa originates (Leissle, 2013). The progressive separation from location and chocolate through industrialization of food has led to the erasure of West Africa as a source of cocoa and allows a history of exploitation to continue.
Most American consumers are unaware of where the chocolate found in their local market grows. This stems from the fact that many chocolate makers, like Hershey's, sought to prioritize the standardization of their product over the beans point of origin (Leissle, 2013). This shift towards a standardized product changed the definition of quality mean consistency (Leissle, 2013), and also completely anonymized where store-bought chocolate was grown or manufactured (Leissle, 2013). The standardized chocolate products followed a growing trend of processed foods: the standardization of the Hershey's Kiss, as well as canned, tinned and preserved products grew from advances in mechanization (Goody, 2013). Chocolate products and other food items became further disconnected with their places of origin as advances in mechanization enabled and encouraged the growth of mass-produced food (Goody, 2013). The desire for a consistent product, and the new found ability to mass produce standard foods and transport them around the world separated chocolate products not only from the point of origin of the bean, but also the point of manufacture.
The separation between chocolate products, their point of origin, and point of manufacture helps conceal the violent past and present surrounding chocolate production. Catherine Higgs discusses the involvement of Cadbury chocolate makers in Chocolate Islands: Cocoa, Slavery, and Colonial Africa. Higgs reports that in 1907 Cadbury sent journalist Joseph Burtt to investigate reports of slavery in West Africa (Higgs, 2012). Upon his return, Burtt provided his report which detailed instances of slavery on cocoa plantations in West Africa, and as a result Cadbury spent several years investigating this report before ultimately stopping their purchase of cocoa from São Tomé and Príncipe (Higgs, 2012). This decision came after several years of efforts of European chocolate makers negotiating for better working conditions for African workers and seeking to regulate recruiting processes (Higgs, 2012). Despite Burtt's report to Cadbury and an earlier report published by journalist Henry Nevinson, Cadbury and the British Foreign Office delayed action on the issue due to political and economic concerns (Higgs, 2012). This lack of action mirrors how the chocolate makers and legislators of today have failed to address the issue of brutal child labor in the production of chocolate. Nearly 20 years ago, American legislators as well world chocolate companies pledged to eliminate child labor from their supply lines by 2005. In the past 20 years, every deadline for this action has been missed and these companies still cannot claim that their chocolate was not made with the forced labor of children (Whoriskey & Siegel, 2019).
The driving force of modern-day child labor on cocoa farms is poverty (Whoriskey & Siegel, 2019). The annual income of a cocoa farming house hold in the Ivory Coast is only $1,900 (Whoriskey & Siegel, 2019). This is below what is defined as poverty by the world bank (Whoriskey & Siegel, 2019). In part it is because of this poverty that child persists. In order to make due, families send their underage children abroad to make money for the family, or even sell them to trafficers (Whoriskey & Siegel, 2019).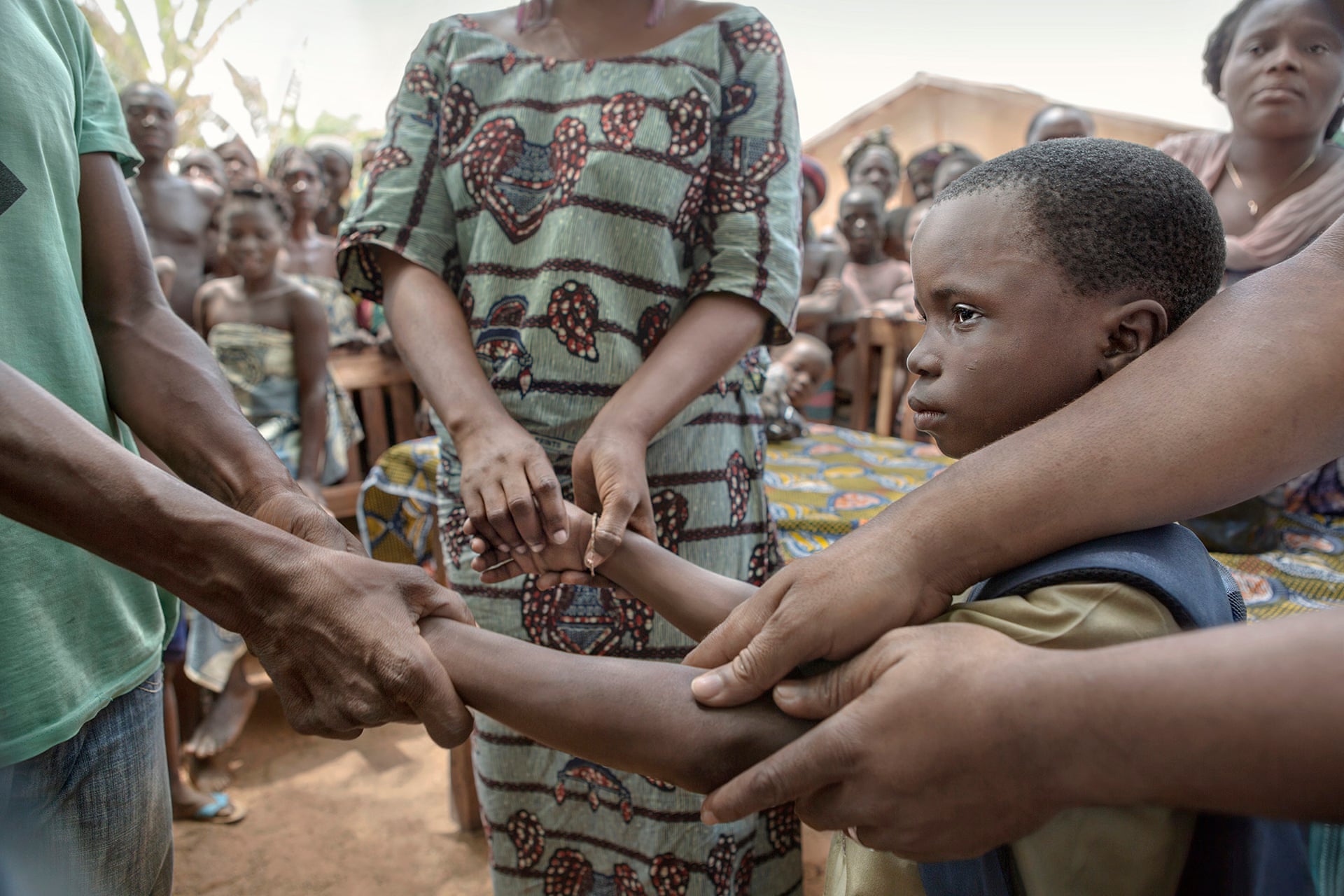 The above image depicts a child, Indigo, being released to his family in Benin. Indigo escaped trafficking, and authorities are releasing him to his family in public so that the other villagers can help make sure that he is resold to a trafficker. This heartbreaking image demonstrates how dire the situation is in these communities.
As evidenced in the previous paragraphs there is a violent past and present in West Africa surrounding the production of the world's chocolate supply. According to Peter Whoriskey and Rachel Siegel's 2019 article, "Cocoa's Child Laborers", the "most prominent, sustained public attention to the issue arouse 18 years ago with reports…that linked American chocolate to child slavery in West Africa" (Whoriskey & Siegel, 2019). Despite the seriousness of this issue, it does not receive much attention or action due to the fact that Africa is not associated with chocolate despite growing most of the world supply. As long as people can remain ignorant of suffering that comes with their chocolate, change will not be made.
The decoupling of West African cocoa production from chocolate is best evidenced by Africa's invisibility in the world of fine chocolate. Earlier, this post discussed the disconnect of chocolate and where it grows that came with the standardization and mass production of chocolate bars, but in the 21st century the organic food trend helped foster the rise of single origin chocolate bars (Leissle, 2013). Single origin chocolate not only names where the cocoa is sourced, but also eschews consistency of their product to make artisanal bars which highlight the features of each batch and strain of cocoa beans (Leissle, 2013). This rapidly grown industry is considered an important facet of fine chocolate, and as a result exist in a very extensive world chocolate census of premium chocolate bars (Leissle, 2013). This database on fine chocolate products show that despite 70% of cocoa being produced in West Africa, only 3.8% of premium chocolate bars contain beans exclusively from West Africa (Leissle, 2013). This shocking statistic demonstrates how global perceptions around chocolate are strongly separated from the region where most of the world's cocoa comes from. Leissle points out that there are logistic, economic, and aesthetic factors which play into this disparity (Leissle, 2013), but the example remains as evidence that West Africa and West African cocoa are underappreciated when many people around the world think about chocolate.
The broken promises of American legislators and large-scale chocolate makers demonstrate the presence of a connection between the strife found in West Africa due to chocolate and lack of public awareness around where everyday chocolate comes from. Industrialization and mass production of food products along with the association of high-end chocolate with Europe and America has allowed consumers to remain ignorant of West Africa's role in cocoa production, and therefore remain ignorant of the problems in the region. In order to solve issues like child labor on cocoa farms, West Africa needs to be brought into the spotlight as a source of the world most treasured resource: chocolate.
Works Cited
"An American Chocolatier in Paris." PR Newswire (New York), 2006.
Goody, Jack, Carole Counihan, Penny Van Esterik, and Alice Julier. "Industrial Food: Towards the Development of a World Cuisine." In Food and Culture: A Reader, 263-82. 3rd ed. Routledge, 2013.
Higgs, Catherine. Chocolate Islands: Cocoa, Slavery, and Colonial Africa. Athens: Ohio University Press, 2012.
Leissle, Kristy. "Invisible West Africa. The Politics of Single Origin Chocolate." Gastronomica: The Journal of Food and Culture 13, no. 3 (2013): 22-31.
Palacios, Ana, documentary photographer. Untitled.A Photograph. New York: Guardian News & Media Limited, April 12th, 2017. From The Guardian US: "West African children rescued from slavery – in pictures". https://i.guim.co.uk/img/media/6a595fe549b34a5811583e21c29f217fed561899/0_0_2000_1333/master/2000.jpg?width=1920&quality=85&auto=format&fit=max&s=da0301adb4b480f1c8745df6059650b0. Accessed March 18th, 2020.
Whoriskey, Peter. Siegel, Rachel. "Cocoa's child laborers". Washingtonpost.com. June 10, 2019. Accessed March 23rd, 2020. https://advance-lexis-com.ezp-prod1.hul.harvard.edu/api/document?collection=news&id=urn:contentItem:5W9H-Y2X1-JCDY-T023-00000-00&context=1516831.